ISS toilet sucks again
New pump brings relief
---
The International Space Station's troublesome toilet is now sucking like a good 'un after Oleg Kononenko yesterday fitted the new pump delivered by Space Shuttle Discovery on mission STS-124.
The Russian ASU (Ассенизационно-Санитарная Установка, or "Waste Management System") clapped out last month, prompting a certain amount of discomfort for the ISS's three-man crew who were obliged to manually flush out the space dunny several times a day.
The ISS's toilet woes attracted plenty of media attention, with NASA forced to field press enquiries about the nuts-and-bolts of taking a zero-grav leak. Kirk Shireman, deputy space station program manager, said yesterday: "It's unfortunate we're talking about toilets, but that really is the life, that's the future of human exploration in space. I don't take it as a really bad thing. It's just something perhaps everyday people can really relate to."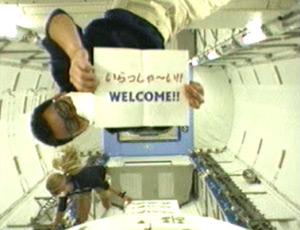 Yesterday also saw the activation of the Japan Aerospace Exploration Agency's Kibo laboratory following installation of the experiment module by spacewalking mission specialists Mike Fossum and Ron Garan.
Crew opened the hatch at 21:05 GMT, and Japanese astronaut Akihiko Hoshide floated inside with a welcome sign (see pic). He said in his best Americanese: "This is a great moment for the Japanese folks. It's been like 20 plus years to get this module up in space."
Fossum and Garan are preparing for a second spacewalk today to "outfit the new lab and prepare the Japanese logistics module for relocation".
You can find NASA's STS-124 mission summary here (pdf). ®