Qinetiq ships first 'Transformer' war-droid
Cunningly disguised as heavily armed killer robot
---
The US war robot manufacturing arm of controversial Brit gov spinoff bonanza company Qinetiq has announced the first shipment of its so-called "Transformer" battle droid.
Qinetiq informs the world today that the MAARS - Modular Advanced Armed Robotic System - has now been placed in the hands of the US military's Combating Terrorism Technical Support Office, also famous for its combat deployable climate-controlled swimming pools for US Navy war dolphins*.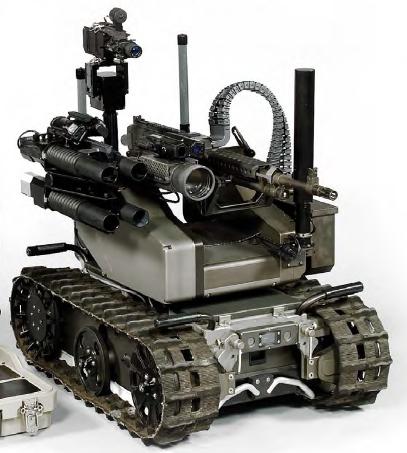 Force escalation: non-lethal, less-lethal, totally lethal or 'groundbreaking'.
"The MAARS robot, building on valuable experience gained with our SWORDS robot system in Iraq, is now ready to provide the needed core platform to develop tactics, techniques and procedures for using armed, yet human-controlled**, robotic ground systems," says Qinetiq's Dr William Ribich.
The SWORDS robot (Special Weapons Observation Reconnaissance Direct-action System) has apparently never fired a shot in combat, so the experience must be a little limited. And, contrary to sensationalist reports in the gutter press, SWORDS absolutely never swivelled its guns round unexpectedly, causing nearby Americans to fear an automated killing spree. Well, actually there were "several minor movement issues", according to Qinetiq, but only in American testing, not in Iraq, and the nearby humans - Qinetiq engineers - weren't frightened at all. Indeed, they "expected" such events. So the lessons learned in Iraq were not those of how to suppress homicidal mutiny among the machine warriors, either - Qinetiq wants to be absolutely crystal clear on that.
Even so, it seems that most of the differences between SWORDS and MAARS consist of extra safety features and tighter control for the machine's human overseer. SWORDS was already able to mount a fearful array of weapons if desired: machine guns in various calibres, grenade throwers, even rocket launchers capable of taking out a tank. Initially, however, SWORDS was sent to Iraq with only a 5.56mm light automatic weapon.
MAARS offers non-lethal options too, including a loudspeaker for shouting at non-compliant humans and "a green, eye-safe laser to dazzle people". It can also fire riot beanbags or gas bombs out of its 40mm grenade launcher.
But the MAARS also offers more robust options in the event that a stern talking-to, gassing or beanbag shot to the breadbasket doesn't quell any obstreperous humans. The droid warrior also totes a hefty 7.62mm machine gun, and its 40mm quad launcher can be loaded with high-explosive grenades instead of limp-wristed riot ammo.
As for safety, human troops considered to be friendly by the robo-soldiers need have no fear. "MAARS' two-way communication features allow the operator to interact from a safe distance," according to the Qinetiq blurb. The controls work "up to a range of over one kilometre from the operator ... enhancing his survivability ... the operator always sees where the weapon is pointed in relation to himself".
"No encounter is ever completely safe," adds Ribich - presumably he means an encounter with terrorists rather than one with MAARS - before going on to say reassuringly that "groundbreaking levels of force escalation will help to save both troops lives as well as non-combatants in the area."
And the "Transformer" abilities announced by Qinetiq last year?
These consist basically of the option to mount different weapons, sensors or manipulator arms on the MAARS. Not actually deadly killer robots in disguise as such, then, except perhaps as slightly different deadly killer robots. However, to be fair to the engineers of Foster-Miller (the American firm, bought by Qinetiq, which makes the droids) the "Transformer" tag looks to have been dreamed up by some marketing genius in London. ®
Bootnotes
*Really: check out this pdf, page 75.
**Clearly human control is not a normal feature for armed robots.