Sanyo camcorders turns to tracking technology
Shy people beware!
---
If you're the sort that hides whenever a camcorder's brought out, then you'd better hope your friends don't buy Sanyo's latest model, because it features face-tracking technology.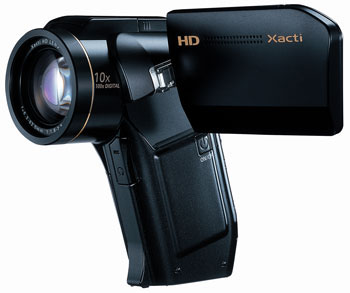 Sanyo's HD1010 can track up to 12 faces
The 1080i Xacti HD1010 camcorder's "Face Chaser" feature is essentially face-detection for both video and stills. The feature can simultaneously monitor up to 12 faces, adjusting the brightness and focus accordingly to ensure that all subjects are crisp and clear.
But for those that do like being the centre of attention, then a slow-motion video mode helps capture every second of, say, the kids running through the finish line on Sports Day. The gadget achieves this by recording video at up to 300 frames per second and then producing "super slow-motion" 60fps video playback.
The camcorder also sports a pistol style grip too, so it might even look like you're holding a speed camera – which is bound to make the kids feel as though they've broken a land speed record. If you want to watch the action back immediately, then the 2.7in widescreen display should come in handy too.
Video content is recorded into MPEG 4 format and four-megapixel still snaps can be taken at up to seven shots per second. Content is stored on SD memory cards of up to 8GB – although one isn't included. An HDMI port is built in for HD TV connectivity.
Sanyo's Xacti HD1010 camcorder will be available in the US in July for $800 (£400/€515). A UK price or release date hasn't been captured yet.