VIA takes tiny mobo spec to second generation
Mini-ITX 2.0 launched
---
Computex VIA has launched the second generation of its Mini-ITX micro motherboard form-factor.
Mini-ITX 2.0 retains the 17 x 17cm size of its predecessor, but now mandates a chipset capable of hosting a PCI Express x16 slot for a graphics card. The chipset should have sufficient integrated graphical horsepower to handle DirectX 9 graphics - the add-in slot's present for folk who want DirectX 10.
Naturally, VIA hopes mobo makers and DIY PC folk will opt, respectively, for its own system chippery and CPU technology, such as - it said wherever possible - its Nano processor.
And since VIA's pals with Nvidia at the moment, how about a GeForce to fill that PCIe slot, sir?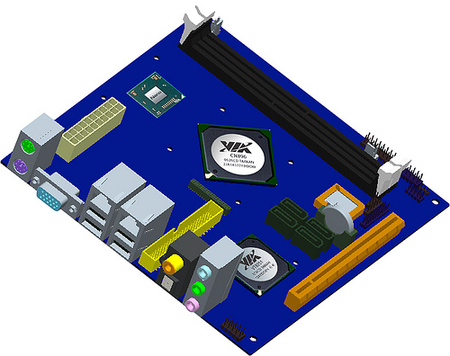 VIA's vision of Mini-ITX 2.0
VIA's spec calls for a VGA port on the board, with HDMI delivered by the add-in card. What, no DisplayPort? HD sound is part of the spec too, with a trio of audio connectors for multi-channel output.
The board should provide two 3Gb/s SATA drives ports and a parallel ATA connector, plus Gigabit Ethernet and at least four USB 2.0 ports. The mobo should allow up to 2GB of DDR 2 memory to be installed.
VIA said it expects to see Mini-ITX motherboards on store shelves in Q4.