Computex Asus may have focused its attention during the Computex show, held in Taipei this week, on its Atom-based Eee PC 901 and 1000 sub-notebooks, but that didn't stop it showing off its Eee Box desktop.
Chinese-language site HKEPC was there to take a few snaps, like these: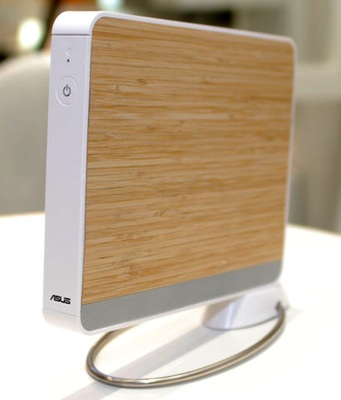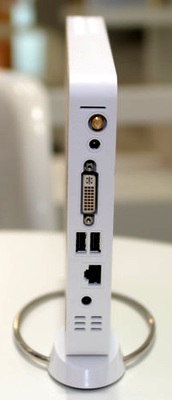 Asus' Eee Box: Atom powered
Images courtesy HKEPC
The Eee Box B202 is just 25mm thick - side on, it measures 216 x 178mm - into which Asus has crammed a 1.6GHz Atom 230 processor - the desktop version of the N270 found in the now Eee laptops.
The desktop machine contains 1GB of DDR 2 memory and an 80GB hard drive, all linked up by Intel's 945GSE integrated chipset. Gigabit Ethernet is included as is 802.11n Wi-Fi - there's an external antenna that fits onto a special port on the back of the unit.
There's another port below it - the power connector's near the base - that some reports maintain is a TV tuner link. It isn't: it's the power port. The one at the bottom is an SPDif digital optical connector.
There's said to be a multi-format card reader on board, presumably under a flap on the front, where you should also find two more USB ports and 3.5mm analog audio sockets.
Unlike the Eee PC, the Eee Box has a DVI port round the back, rather than VGA, alongside two USB ports. Some models will have Bluetooth on board, Asus said. Expect a range of colours too.
Apparently, it'll go on sale early in July - in Asia, at least - for NT$9888 ($326/£167/€209).