CSC cranks the whalesong up to 11
'Emotionally compelling' new brand frontage
---
LogoWatch It's come to our attention that CSC, the "leading global consulting, systems integration and outsourcing company", has had a bit of a face-lift and is poised to unleash on an unsuspecting world its "emotionally compelling" new brand frontage - evidently the result of thousands of hours of whalesong-driven blue-sky brainstroming power brunches enveloped in a thick joss-stick-generated fug.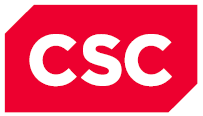 According to the inspirational blurb designed to rally the company's foot soldiers around the new corporate standard, the CSC brand is "a statement of what we stand for, today and well into the future" as well as "the beacon that guides us in decisions - a lens for everything we do, focusing our efforts to move forward together as one integrated organization".
Yup, the Strategy Boutiques have been busy, and no messing. As tradition dictates, there's the usual breathless analysis of the new logo contained in the rebranding FAQ (pdf):
Our logo comprises two elements: the new logotype and the holding shape. The logotype is a custom variation of the typeface, Gotham, with the angles of the letters refl ecting the angles of the holding shape. At once contemporary and classic, the logotype should remain relevant over time. The holding shape acts as a framing device for the letters, lending visual emphasis to the CSC brand name. Additionally, its rectangular form and angled edges serve to connect the holding shape to our larger visual system.

Lastly, by retaining and emphasizing the color red, we are reinforcing our visual differentiation amongst the competitive set.
Yeah, like, wow. There's more: here's how the above redefinition of the corporate brand paradigm will impact on CSC's headed notepaper and glossy brochures:
Design is a critical step in creating a clear and consistent CSC brand, and our collateral materials will reflect our brand's new look and feel - one that's both more emotionally compelling and strategically grounded. The extended color palettes, along with a new style of photography and typography, will help to demonstrate our brand idea by exceeding expectations for the design system of a company in our category.
And what, you're wondering, will CSC's clients make of all this nonsense? Here's what the company thinks:
A stronger brand helps differentiate CSC within a crowded category by identifying us as the company that exceeds our clients' expectations, empowering them to achieve greater possibilities than ever before. By delivering strong, consistent messaging to our clients, we help cultivate an even stronger emotional connection, encouraging both prospective and existing CSC clients to feel confident in choosing us as their partner.
Well, we have it on good authority that at a recent presentation of the new image to valued customers, one "unimpressed" senior client said of the logo: "All that says to me is 'CSC cuts corners'."
Oh dear. ®