Sony Alpha 200 digital SLR
Surprise super snapper from Sony
On the right of the camera is a flap for a Type I and II Compact Flash card, but this being a Sony camera, you can also use various types of Memory Stick Duo cards with a CF card adaptor. At the bottom is a battery cover: the A200 uses a Sony "stamina" battery, which is claimed to offer up to 750 shots. It certainly seems about right, because after we had shot almost 250 images, there was still more than 70 per cent capacity left in the cell.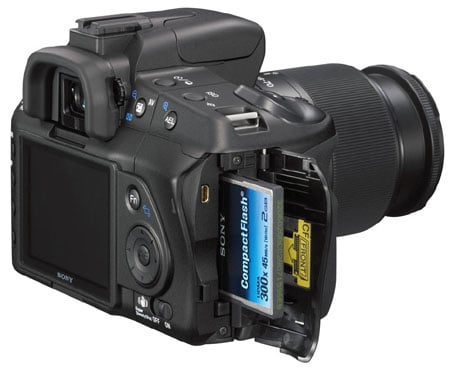 Pictures are stored on CompactFlash cards
Like its predecessor, the A200 has a 10.2-megapixel CCD. The ISO range has been extended to 3200 (the lowest setting is ISO 100) and the shutter speed range is 30-1/4000 sec. You can shoot JPEG or RAW files or both together if you want - Sony provides RAW converter software; more on this later - and the file sizes available are 3880 x 2600 pixels (RAW) with JPEG images available in three formats: large (3872 x 2592), medium 2896 x 1936 and small (1920 x 1280).
Other goodies include image stabilisation, a dust-removal system that not only has the CCD coated with anti-static indium tin oxide but also shakes the sensor every time the A200 is switched off. This, Sony says, will cast off any stray dust particles. There's also a D-Range Optimizer, which is designed to balance the exposure when shooting a subject against a backlight.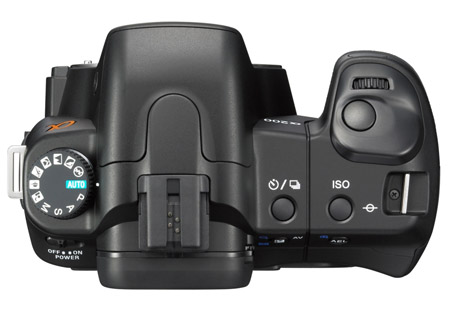 The A200 is ready to shoot in less than a second
Switch on the A200 and it's ready to shoot within a second – there's no hanging around with this camera. There's hardly any shutter lag either. We really liked the way this camera handled. Using a bit of old technology from Minolta, the A200's autofocus system can be activated by simply putting your eye to the viewfinder - you can turn this mode off - an action that also switches off the LCD.