Sony Alpha 200 digital SLR
Surprise super snapper from Sony
The A200's menu screen is clear, bright and very informative, providing a wealth of useful information including flash mode, exposure compensation setting, ISO, white balance and the number of shots available. If that's too much information for you, press the display button and you can either reduce it or switch it off completely. The function button even lets you adjust the colour temperature on the white balance control.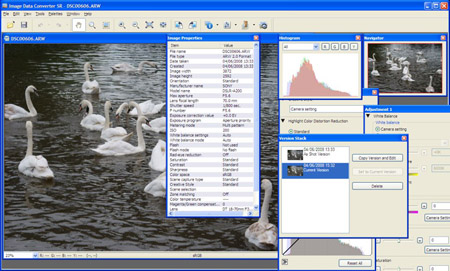 Sony's Image Data Converter SR software lets you make adjustments to RAW images and then save them in various file formats
Naturally, there are plenty of camera modes, including auto, program auto, aperture priority, shutter priority, manual and pre-sets for sport, landscape, macro, portrait, sunset and night view. Sadly, only icons are provided for these modes - on the mode dial and screen display. We think it would be helpful if there was just a short text description too as some of the icons are rather vague when it comes to indicating what a particular mode is.
But this is just nit-picking, because the A200 was a delight to use. We especially liked the playback options, including one that displays the previous four or next four pictures as tiny thumbprint images above the main image, making it easy to select images. The camera grip is comfortable and the A200 feels well balanced in the hands. The viewfinder gives you a good view of the scene and provides useful information like shutter speed and aperture setting. The tabbed menu system is straightforward to use too.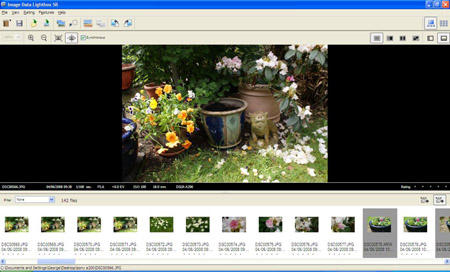 Image Data Lightbox software lets you display and organise images on your PC
When it came to performance, the A200 didn't let us down either – well not too much, anyway. In auto mode, you're more than likely to get good shots, whatever the shooting situation. Picture noise was low, and even at ISO 1600, images weren't plagued with noise. The exposure compensation control works well and the nine-point AF system was swift and accurate. The sport mode, which causes the A200 to shoot continuously at 3 frames per second, the camera locked on to the target well and the AF system coped as we panned around quickly.