Apple's 3G iPhone to launch 11 July
Price halved
WWDC Yes, he did it. Apple CEO Steve Jobs has just unveiled the 3G iPhone, doubling the handset's talk time in the process - and halving the price.
Last year, Jobs said Apple wouldn't connect the iPhone to 3G networks because of the communications technology's battery demands. Apple's clearly licked the problem: the new iPhone is rated as capable of 5-6 hours' browsing on a 3G connection.
Jobs also promised five hours' 3G talk time, which is what the previous model could manage on GSM. The new one does ten hours on GSM, he claimed.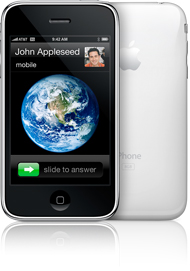 Apple's 3G iPhone: half the price, twice the battery life
Media fans will get seven hours' video playback and 24 hours' continuous music listening.
But what about that 3G data connectivity? Is it any good? Jobs said the new handset can download an email attachment in a third of time time it took the previous model, which doesn't exactly suggest 1.8Mb/s let alone 7.2Mb/s. Yet Apple claimed the iPhone is indeed HSDPA-capable.
Still, it'll make for faster data when you're away from a Wi-Fi hotspot
As expected, the new handset has GPS on board, which gives an accuracy injection to the handset's Google Maps app - and to tag snaps taken on the 2Mp camera. It also loses the original iPhone's insanely recessed headphone socket, so you can plug in a better set of 'phones than Apple's own without having to resort to a $20 accessory or a razor blade.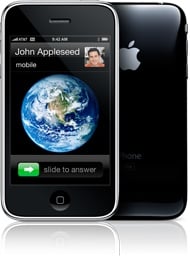 Back in black
Jobs didn't go into detail, but he did said the new phone's audio playback had been "dramatically improved".
Maybe, but the price certainly has: $199 for the 8GB model and $299 for the 16GB version. This time last year, they were set at $599 and $699, before falling to $399.
Gone is the metal backplate, replaced with a black one - or white, if you want a 16GB model. Gone too is the docking cradle - all you get with the 3G iPhone is the customary USB cable, but at least it's continuing to bundle a (now even smaller) AC adaptor.
Apple said the 3G iPhone will be rolling out in some 70 countries over the coming few months, with 22 nations getting it on 11 July. Jobs promised that wherever you buy the 8GB model, you won't pay more than the equivalent of $199 (£101/€127)