Review Microsoft has released beta 2.0 of Silverlight 2.0, complete with a Go-Live license that permits commercial deployments for those sufficiently brave.
Silverlight 2.0 is the make-or-break release for Microsoft's would-be Flash killer, since it includes the .NET runtime. While .NET has succeeded as a web platform, it has never been fully convincing on the desktop. The runtime is huge and can be troublesome to install, the Windows Forms GUI framework is slow and ugly, and the Windows-only platform requirement is an increasing burden as the Mac gains market share.
Silverlight solves all three problems. The GUI framework is Windows Presentation Foundation (WPF), based on an XML layout language called XAML. The runtime is under 5MB, delivered as a browser plug-in. Cross-platform is limited, but includes Intel Mac so meets the most pressing need.
However, Microsoft is racing against Adobe Systems, whose mature Flash client covers the same territory. The pace of Silverlight development is energetic, but raises concerns that too many bugs may slip through.
I experienced this first-hand when installing the beta 2.0 development tools. Keeping Visual Studio 2008 running sweetly with all Microsoft's latest add-ons has become arduous. The Silverlight tools beta interacts with the Visual Studio 2008 Service Pack (SP)1 beta; you have to scrutinize the release notes in detail and even then the install may fail and require manual fixing. This is the kind of deployment nightmare that Silverlight aims to fix for end users.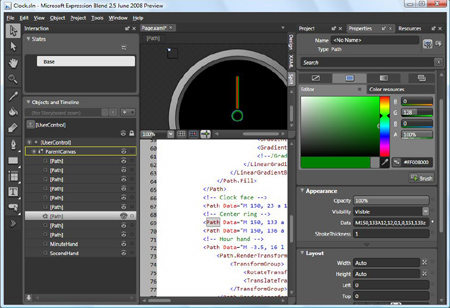 Expression Blend 2.5 - complex but unavoidable
Silverlight developers actually need two products: Visual Studio 2008 with the necessary extensions, and Expression Blend 2.5 June 2008 Preview. The idea is that developers write code in Visual Studio, while Expression designers work on the same XAML files. The concept is good, but the situation is messy in beta 2.0.
Sponsored: Webcast: Discover and secure all of your attack surface