This article is more than 1 year old
Motorola Z10 'kick slider' media phone
Media monster mobile Mk II
Review It's take two for Motorola's kick slider concept. With the Z10, the phone maker has refined the back-bending sliderphone quirkiness of last year's Z8 with an upgraded features list and a more sober design.
The Z10 is geared up with high-speed HSDPA 3G data connectivity; a 3.2-megapixel camera with enhanced imaging and video software; and is powered by the Symbian operating system and UIQ user interface.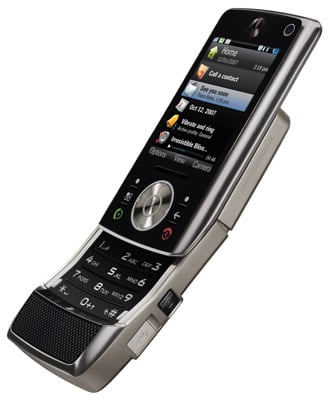 Motorola's Z10: kick-slider is still a kick-arse concept
Then there's Motorola's kick slider – a mutation of the conventional slider that, as it opens, hinges the phone into a curved, more face-fitting shape. This clever engineering supposedly improves call quality by bringing the microphone closer to the mouth. Its other important role, of course, is as a neat bit of gaze-grabbing gadgetry. Speaking of which, Motorola has reworked the Z8's lime green livery with a more mainstream chrome-edged, silver and black look
Motorola is pushing the Z10 as a movie-making mobile, including a reasonable video capture facility and an ArcSoft Media Editor software suite to edit video clips in-phone. Users can then upload them directly to YouTube or a host of other sites online straight from the phone using a Shozu application.
But while you may not be able to shoot Hollywood quality movies on the Z10, you can watch them. Motorola has packaged a 1GB Micro SD card with the device - on board, the three movies in the Bourne trilogy. The Z10 also supports downloadable full length movies from Motorola's recently launched digital movie service with Paramount Digital Entertainment.