If what's keeping you from buying your own personal ultralight aircraft is lack of garage space and a USB plug on the plane's dash for your iPod — you are certainly in luck.
Los Angeles startup ICON Aircraft this week unveiled its A5 ultralight "sport plane," which the company hopes will open a new market made up of amateur pilots zipping around the skies with style.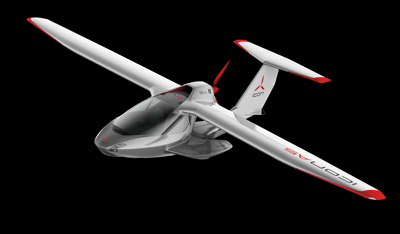 Concept art — what, no reflective black effect?
Yes, you see, in 2004 the US Federal Aviation Administration created a new classification of Sport Pilot licenses that only requires 20 hours of in-flight training, no medical check, and half the cost of a traditional private pilot's license.
With the piloting bar set to an unprecedented low (not seen since they let a couple of bicycle repairmen tool around Kitty Hawk, North Carolina) companies such as ICON are looking to get rich.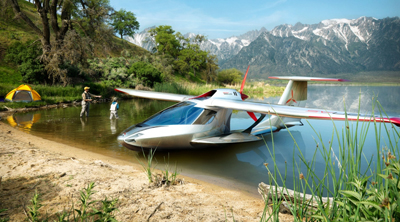 "Son, let me tell you something: Fuck hiking."
ICON focuses on special touches that are time-tested to appeal to the mass market — namely looking good and not killing the operator.
The two-seater A5 includes an "intuitive," sports car-like cockpit with a MP3 player port, runs on both auto and aviation gasoline, and sports retractable wings that make the plane fit snugly in a large garage.
It's also got safety kit such as a propeller guard and a whole-airframe parachute for those times when finding a landing strip is too damn inconvenient.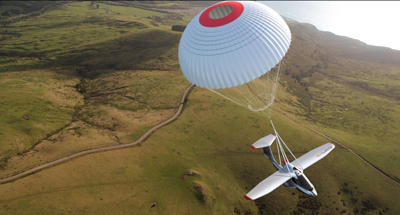 Should have saved up for the gas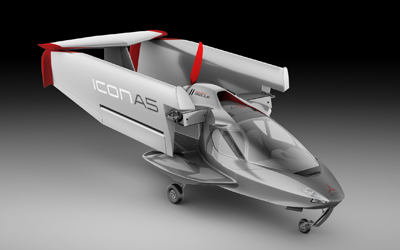 ICON CEO Kirk Hawkings says the aircraft brings the "freedom, fun and adventure back into aviation." [Note: apparently at some point, piloting a regular personal aircraft has become — yawn — way too boring.]
The plane starts at $139,000 with initial models scheduled to be delivered in late 2010.
That's assuming things go well when the full-scale prototype begins flight tests this summer. Look to the sky — if you see a ball of screaming death and fire plummeting from above you'll know it's time to seek a refund on the required $5,000 deposit.
There's more about the plane at Popular Mechanics including a video of its unveiling. (Warning: Audience comments about the plane such as "This would be perfect for the Bahamas," will make you extremely bitter if you are going home to a studio apartment and peanut butter sandwich dinner.) ®
Sponsored: How to simplify data protection on Amazon Web Services