Pentax Optio S12 compact camera
Compelling upgrade?
---
Review Thankfully, digital camera manufacturers have stopped stuffing ever more megapixels into their compact cameras. That's good because performance suffers and, for most folk, eight megapixels are fine.
Manufacturers have instead focused on introducing useful features like face detection and image stabilisation. So why has Pentax launched the 12-megapixel Optio S12? A good question, and one suspects that it's simply a way of distinguishing the camera from its predecessor, the Optio S10 - no prizes for guessing how many pixels this little model offered - which we looked at in February.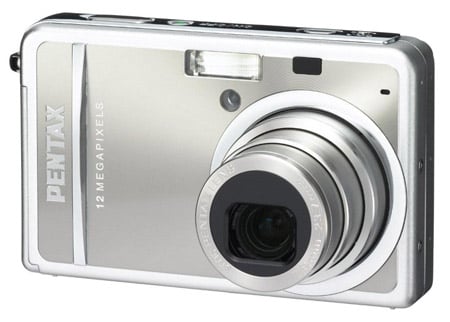 Pentax's Optio S12: almost identical to the S10
Cosmetically, there's not a lot of difference, with both models finished in a two-tone silver. They're also the same size and weight – 87 x 54 x 21mm and 130g. The Optio S12 isn't quite a case of "the same chocolates in a different box", but it comes darned close. Oh, and you'll pay an additional 50 quid for the extra megapixels.
At the front, there's the usual lens and flash arrangement, and on top is a display button, power key - which glows green when the camera is switched on - and shutter button. At the back is a nice, large 2.5in LCD screen, zoom buttons, playback button, and four-way controller for flash, macro, drive mode and program mode select. Tucked below this is a menu button and a green mode button, which returns the camera to the default settings. At the side is a flap for the battery and SD or SDHC card.
In addition to a 12-megapixel, 1/1.7in CCD, you get a 3x, 7.9-23.7mm optical zoom, equivalent to a 38-114mm, 35mm lens, which means you don't get a great wide angle performance on this camera. Other features include face detection and pentax's cut-down version of an image-stabilisation system, which the company calls "Digital Shake Reduction" - it basically boosts the ISO to 3200.