This article is more than 1 year old
Discovery crew preps for Saturday landing
Final checks made
The crew of space shuttle Discovery are today making final preparations for a scheduled landing tomorrow at Kennedy Space Center, following a successful mission STS-124 which saw delivery, attachment and activation of the Pressurized Module of the International Space Station's Kibo laboratory.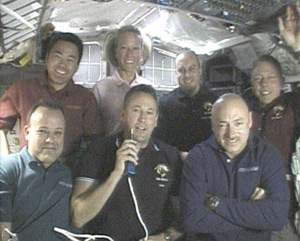 The crew (pictured) will test the thrusters which position Discovery for re-entry, check the shuttle's control surfaces and prep the "recumbent seat" for mission specialist Garrett Reisman - replaced at the end of a three-month stint aboard the ISS by NASA astronaut Greg Chamitoff.
Discovery arrived at the ISS on 2 June, and as well as the Kibo module, brought vital spares for the bothersome Russian ASU (Ассенизационно-Санитарная Установка, or "Waste Management System"). Much to the relief of the ISS's occupants, Oleg Kononenko was able to fix the space dunny by fitting a new pump.
The next space shuttle mission to the ISS is STS-126, scheduled to blast off on 10 November. Endeavour will deliver a Multi-Purpose Logistics Module.
Discovery will return to the outpost at the beginning of December on mission STS-119, bearing a fourth set of solar arrays and batteries.
The final components of Kibo - the Experiment Module Exposed Facility and Experiment Logistics Module Exposed Section will travel to the ISS aboard Endeavour in 2009 on mission STS-127.
Mission STS-125, meanwhile, slated for an 8 October lift-off, will see Atlantis rendezvous with the Hubble Space Telescope for a third and final servicing. ®