This article is more than 1 year old
OpenSolaris still has some Linux copying to do
Keep baking, boys
Review Sun has made good on its promise to deliver OpenSolaris, the company's Unix-based answer to Linux, with a company-supported, commercial update arriving in mid-May. Although far from a complete product, the latest OpenSolaris is impressive and in the long run could prove a viable alternative to Linux.
Part of OpenSolaris' appeal is that it contains a subset of the source code for the Solaris Operating System, but with an open source license. Among the familiar Sun features are the enviable DTrace tuning and monitoring tool and the ever-impressive ZFS filesystem, neither of which are likely to make it to Linux due to licensing and personality conflicts.
On the other hand, larger Linux efforts like Debian (which is the basis of Ubuntu) have an impressive range of open source software packages which, so far, OpenSolaris can't match.
However, given that OpenSolaris can potentially expand its package support far more easily than Linux can start shipping a DTrace equivalent, OpenSolaris may prove a powerful competitor in the years to come.
As it stands we wouldn't recommend OpenSolaris to the casual user; there's enough gotchas and quirks to make running OpenSolaris a bit more of a headache than Linux (of course that largely depends on your hardware).
Still, given that much of OpenSolaris' potential audience are developers interested in its underlying tools like Dtrace or "containers," we wouldn't hesitate to recommend it for advanced users. Just beware that the hardware driver support is nowhere near that of Linux rivals.
Drivers Wanted
Back when OpenSolaris was first released, we found its device driver support lacking and unfortunately not much has changed on that front. OpenSolaris had trouble with our Thinkpad T61 Wifi drivers and did no better with an older Toshiba laptop. The only successful connection we managed to get was from OpenSolaris running in VMWare on a MacBook.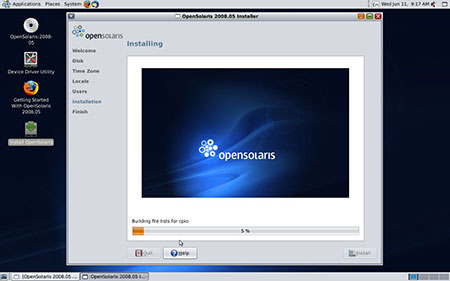 Open, Open Solaris
Some things have improved since the initial release though - most notably the installer. Cranking up OpenSolaris is as easy as mainstream Linux distros - just pop in a live CD and select the install option. OpenSolaris will then walk you through the setup and reboot once your system is installed.
The Live CD desktop includes a launcher for the Device Driver Utility, which makes it much easier to see which of your devices have drivers attached and which do not. If there isn't anything red in the Device Driver Utility list, then all your hardware should be supported just fine. If you get warnings, it's probably better to look and see if drivers exist before you go ahead with the installation.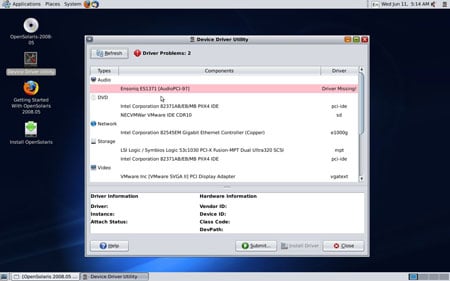 Driver doldrums - Click to Enlarge
If you're looking to setup a dual boot system it's not too difficult. As long as you're using GRUB as your bootloader you should be okay. But have a look through the OpenSolaris docs, there's a couple of gotchas -- like making sure the Solaris partition precedes the Linux swap partition.
Once OpenSolaris is installed, you'll be prompted to reboot. Grab of cup of something strong because it's the longest boot time you're likely to encounter (unless you have a copy of Mac OS 9 lying around).
By default OpenSolaris boots into the GNOME desktop environment, which is similar to what you'll find in Ubuntu and other Debian Linux distros, though with OpenSolaris you'll be using GNOME 2.20, missing out of some of the latest and greatest GNOME features (Ubuntu, Fedora and others currently ship with GNOME 2.22).
Despite being a version behind the curve, if you're comfortable with Ubuntu, OpenSolaris will look familiar. All the GNOME panels, file manager, and customization options work just as you would expect. The most noticeable difference is that Sun has included a very slick theme by the name of Nimbus, which uses gradients and drop shadows to create a very attractive look, along the lines of Fedora 9 and miles ahead of Ubuntu's somewhat ugly brown theme.
Most of the typical GNOME apps are present - Firefox is the default web browser, Thunderbird and Evolution are both included along with all the games and most of the smaller GNOME apps as well.