Sharp pitches 'world's largest' LCD screen
Monster
Not happy with the size of your 32in LCD TV? If money's no object, get on phone to Sharp, which is now taking orders for a monster 108in screen ready for connection to your HD kit.
Sharp's not saying how much the beast will set you back because it's offering the display entirely on a built-to-order basis. It's really aimed at businesses who want enormo-screens for conference rooms, shopping centres and the like.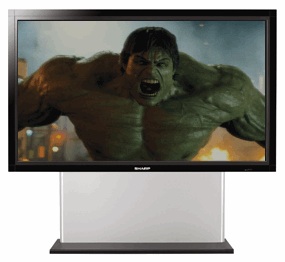 Sharp's LB-1085: monster-sized screen
Hulk image courtesy Marvel
If you can afford the LB-1085, what you get is an Advanced Super View-branded display that's the largest screen that can be cut from an eighth-generation, 2160 x 2460mm panel.
That means the screen is approximately 3.2m² - so you'd better make sure your living room can take it.
Sharp promised the LB-1085 will ship with a "rich assortment of inputs", including HDMI and DVI.
It also said the screen sports a "low-noise, fanless design" designed "to handle round-the-clock continuous operation" - perfect for those all-night back-to-back Lord of the Rings sessions, in other words.