Nintendo Wii US sales 3x PS3, Xbox 360
Grand Theft Auto IV not shifting hardware
---
Nintendo's Wii has once again outsold the combined total of PlayStation 3s and the Xbox 360s purchased in the US last month.
So show the latest figures from local market watcher NPD. Its numbers reveal that some 675,000 Wiis were bought in May, compared to just 208,700 PS3s and 186,600 Xbox 360s.
US Console Sales 2008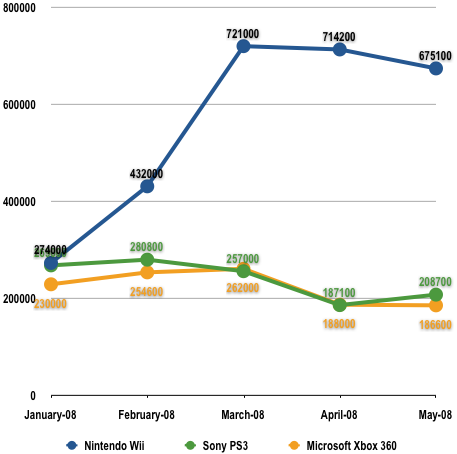 Source: NPD
The Wii total was down slightly on the previous couple of months. In March, it hit a peak of 721,000 units, well below the Christmas surge - in December, Nintendo sold 1,350,000 Wiis, but nonetheless well up on its average across the rest of 2007.
Wii Fit has clearly done it work. Interestingly, in the US at least, the debut of Grand Theft Auto IV led to no similar sales surge for either the PS3 or the 360. The Microsoft console hit a post-Christmas peak of 262,000 units in March, while the PS3 rose to 280,800 in February, but neither marks a significant jump over previous or succeeding months.
The game's selling well: 871,300 Xbox 360 units in the US in May and a further 442,900 of the PS3 version. Wii Fit managed 687,700 units and Mario Kart 787,700, according to NPD. Some 4.2m copies of GTA IV have been sold in the States, making it the most popular game of the year by far.