This article is more than 1 year old
Discovery glides home safely
Next shuttle mission: Hubble
Space shuttle Discovery returned to Earth on Saturday, touching down at 15:15 GMT at the Kennedy Space Center at the end of a successful 14-day jaunt to the International Space Station.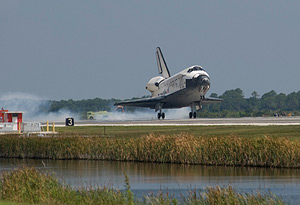 Mission STS-124 saw delivery and installation of the Pressurized Module of Japan's Kibo laboratory during three spacewalks which also saw activation of the lab's logistics module.
Discovery also brought much-needed relief to the ISS in the form of a new pump for the Russian ASU space toilet - now fixed.
The next shuttle mission is STS-125, slated to lift off on 8 October, which will see Atlantis make one final servicing trip to the Hubble Space Telescope before the shuttle fleet retires in 2010.
Over 12 days, crew will make five spacewalks to "upgrade and enhance" Hubble's capabilities and hopefully see it fit for action for a further five years. ®