This article is more than 1 year old
CherryPal out sweetens Apple with 2W, ultra-cheap PC
A tiny Cld Cmptr
Here's how you to get to CherryPal. Gather up all of the hot technology buzzwords – cloud computing, going green, communities – and mush them together into something about the size of sandwich.
CherryPal has unveiled a device that's billed as a cloud computer. Don't be intimidated by the name. We're just talking about a PC that runs on an ultra low-power chip from Freescale instead of one of those hot jobbies from Intel or AMD. That energy-friendly chip helps CherryPal keep its computer small and cheap – an ideal combination, we're told, for attracting youngsters to something different.
Fine details on CherryPal's approach remain tough to gather because the company doesn't plan to reveal the full breadth of its assault on the PC market until the third quarter. For now, it's only showing off the hardware.
The CherryPal folks stripped out 80 per cent of the usual PC innards, leaving a case, a chip, a couple USB ports and a monitor port. The system runs on a Power architecture-based 400MHz Freescale mobileGT MPC5121e chip, ships with 4GB of Flash storage and has 256MB of memory. The operating system of choice is a tweaked version of embedded Linux (Debian).
Best of all, perhaps, the unit chews through a mere 2 watts. (Not a typo.)
Now, we know what you're thinking. 400MHz? Painful, right?
Well, CherryPal CEO Max Seybold promises that this puppy flies. The 10.5 ounce unit boots in 20 seconds and can crank through just about any applications, including graphics-heavy stuff thanks to the tri-core Freescale design that includes a graphics cruncher.
We remain skeptical – very skeptical. And CherryPal won't have demonstration units for a few weeks to prove us wrong.
Seybold, however, believes that the CherryPal device will deliver plenty of horsepower for those willing to embrace the cloud computing world. It sounds to us like the company will have some kind of application repository and data service where customers can find software and store their files. But Seybold refuses to talk about that for now.
Seybold also won't reveal the price of system, although he did claim that it will come in "dramatically lower" than things like the $400 or so Asus EEE PC and other laptots.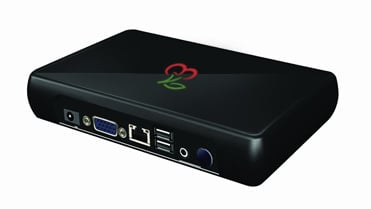 Meet CherryPal
Plenty of companies have tried the thinned down computer idea and also attempted to go against the Intel and AMD (x86) machine. They've just about all failed.
But perhaps this is the right machine for the right time . . . ?
"It is really good enough," Seybold told us. "That is the basic principle.
"We tried to eliminate waste and produce the most affordable, greenest computer on the market."