This article is more than 1 year old
Asus Eee PC 901 Linux Edition
With Atom, Asus gets it right
Review It's ten quid cheaper but packs in more features. Hot on the heels of Asus Eee PC 900 comes the 901, sporting not only a smart new design but also Intel's Atom processor. So is it the machine the 900 should have been?
No question: the answer's yes. With the 901, Asus has released a sub-notebook that isn't simply a version of the original Eee PC with a bigger screen, it's a major step forward that, at last, justifies the price differential. It also addresses its predecessor's key problems.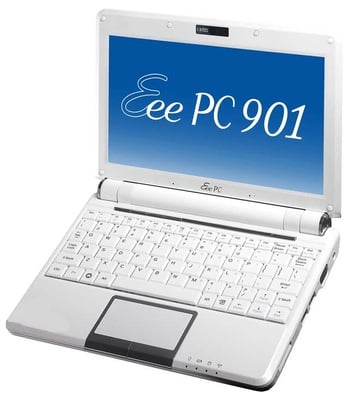 Asus' Eee PC 901: more than one point up on the 900
Fresh out of the box, the 901 near enough matches the 900 for size - the 901 is very slightly larger. Keen to avoid the criticism it incurred in the UK by shipping the 900 with a 4400mAh battery when US consumers got a 5800mAh power pack, the 901 comes with a 6600mAh job - universally, claims Asus.
We'll come back to battery life later, because the 901 has a number of tricks up it sleeves that promise to eke this out beyond the two to three hours that were all its predecessors could manage. For now, it's enough to note that the bigger pack takes the 901's weight to just over a kilo and makes it thicker at the back.
That said, it feels no less portable, and the new, more curvy casing means the 901 doesn't look bulky, either.
The 901 has the same pair of USB ports, VGA connector and SDHC slot on the right side, and Ethernet, USB and 3.5mm audio sockets on the left. The base now sports a bigger hatchway.