Asus Eee PC 901 Linux Edition
With Atom, Asus gets it right
Open the machine's lid, and you see the same 8.9in, 1024 x 600 screen as before and, above it, the same 1.3-megapixel webcam. However, the 901 comes with a dual pick-up microphone array, the better for VoIP calls using the bundled Skype software.
The keyboard's much the same - always an Eee strong point - but there's now a chrome-styled bar above it that's home to the new, slim power key at one end and a set of screen and performance controls at the other.
Asus' choice of icons is odd, since it's not immediately clear what these keys are for, but trial and error reveals that the first turns the screen off - handy for power conservation. The second flips the screen from native resolution to what appears to be 800 x 480, the original Eee screen resolution, though why you'd want to, God alone knows.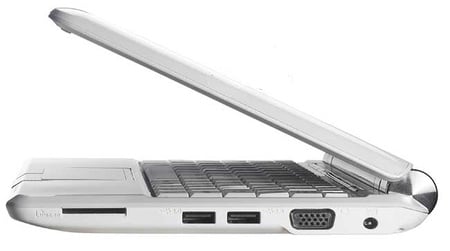 Same ports, different layout
The last two buttons both have people icons, but the first cycles through the 901's new performance settings - called Super Hybrid Engine - and the very last one runs Skype. Fortunately, you can change the apps these two buttons invoke, by using the new Instant Key app.
The keyboard itself has a solid feel with almost no bend beyond the press of a key, though the keys remain more suitable to small fingers than big ones. That said, on our review sample, the right-hand end of the keyboard bend very slightly upwards, causing it to rattle a bit. However, it's not as rattly overall as previous Eee keyboards have been.
Below the keyboard sits a much improved touchpad that's not recessed like the 900's and accompanied by far less hard-to-press buttons than before. It's bigger too: 67 x 37mm to the 900's 63 x 36mm. Once again, it supports two-finger scrolling, vertically and horizontally, though the latter's disabled by default.
The new touchpad has a slightly rough texture, which we weren't too keen on.