Asus Eee PC 901 Linux Edition
With Atom, Asus gets it right
Internally, the 901 has, as before, 1GB of 533MHz DDR 2 memory. But in place of the 900's 900MHz Intel Celeron M, we have the 1.6GHz Atom N270. Intel's pitch for the processor is more performance and greater power efficiency. That includes HyperThreading to allow one core to operate as (almost) two, and Enhanced SpeedStep to throttle it back when you don't need the power. Both technologies were absent from the 900's Celeron M.
The Atom connects to Intel's 945GMS chipset, the following generation from the 910GML used in the 900 and 701. So it supports 533MHz memory instead of 400MHz Ram, and ups the frontside bus speed from 400MHz to 533MHz, though the chipset can go up to 667MHz. The graphics step up from the basic GMA 900 integrated engine to the GMA 950.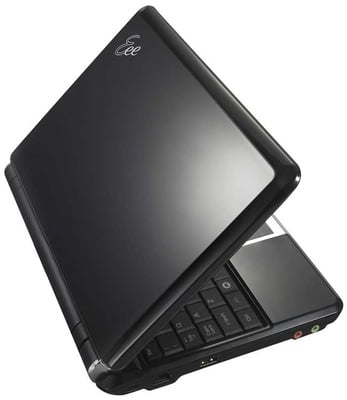 Snazzy looks - snazzy CPU too?
Like the 900, the 901's 20GB of solid-state storage is split into two drives: a 4GB unit and a 16GB drive. This time round, the 4GB is explicitly devoted to the system, while the 16GB drive holds the user's documents. The system space contains two partitions, one - root - using the UnionFS file system for the 'live' system, and a second, EXT2-formatted read-only space for the OS restoration data. The user drive - /home - is formatted using EXT3.
Not that punters unfamiliar with Linux will care. What matters is that the space is more sensibly and more clearly arranged than before. The OS installation remains much as before, presumably with the apps and code brought up to date. Asus has added a Bluetooth app and EeeAP, to allow the Eee to share its Wi-Fi connection.
Finally, we note, the Eee's taskbar battery icon displays the charge level when the machine is connected to the mains - about time. Alongside it is a new icon that tells you there are system software updates on Asus' servers. It'll download them for you too, if you want.
These are small tweaks, it's true, but ones we hoped that the 900 would fix but didn't.