Asus Eee PC 901 Linux Edition
With Atom, Asus gets it right
Asus' user-friendly desktop remains unchanged but for the new software additions, and the 901 is kitted out with a full array of productivity apps - SunOffice (in place of OpenOffice, sort of) and Google Docs - internet and communications tools, games, educational apps and utilities, so no complaints there.
Opening the 901's hatch reveals the single DDR 2 So-DIMM slot and the 16GB SSD, which is removable, allowing you to upgrade it later if you need to. Ditto the Wi-Fi card, though since it's 802.11n, you probably won't need to change that. Incidentally, it's not clear what draft version of 802.11n it is, but it connected to our Draft 2.0 access point without any apparent trouble.
There's an unused connector that's possibly for future WiMax or HSDPA 3G cards, but it'll be hard to add anything to it without removing the base of the laptop and, unless Asus has been very careful with the engineering, the 16GB SSD too. However, with the SDHC card slot, there's plenty of scope for storage expansion there if you don't fancy messing with the machine's innards.
But now, we can delay no longer - it's time to talk battery life. We mentioned the N270 is clocked at 1.6GHz. True, buy Asus' Super Hybrid Engine (SHE) app lets you change this. It has four modes: Auto, Super Performance, High Performance and Power Saving. The first flips between High Performance (1.6GHz) and Power Saving (800MHz) modes, while Super Performance overclocks the 901 to 1.8GHz.
To compare them we did downloaded the open source Photoshop alternative, The Gimp, and mixed four photos into a 2048 x 1366, 21.5MB image. Gimp was not tweaked in any way - we used the standard, install-fresh settings in each case. Applying the same Gaussian blur filter to the picture under each SHE setting yielded the following:
The Gimp Filter Test Results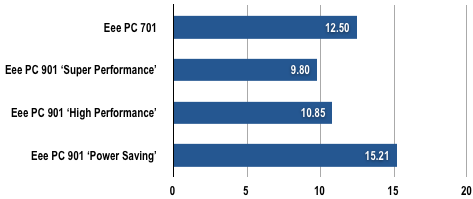 Times in Seconds
Shorter bars are better
So clearly Intel's Atom isn't significantly better than the 701's 630MHz Celeron M. In fact, the 701 is actually faster than the 901 in power saving mode. How much this matters to you depends on the applications you, as a user, want to run. And while we can say a 630MHz Celeron M is faster than an 800MHz Atom N270, the latter nonetheless has headroom to go further - just. Indeed, it would be interesting to see how well a 900MHz Celeron M, like the one found in the Eee PC 900, would compare. We reckon it would certainly give the 1.6GHz Atom a run for its money.
That leaves one question: do the higher clock speeds come with a hefty battery-life penalty?