Asus Eee PC 901 Linux Edition
With Atom, Asus gets it right
We tried our standard test: run an H.264-encoded standard-definition movie over and over until the battery dies. We carried the test out using the three key SHE settings, with the screen on maximum brightness, Wi-Fi turned on and associated with an access point, and Bluetooth disabled. Since Auto should leave the busy CPU at 1.6GHz, in this test it shouldn't yield a significant battery life benefit over the High Performance setting.
Battery Test Results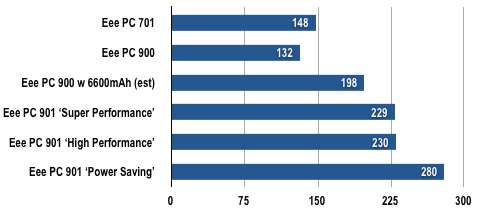 Times in minutes
Longer bars are better
The 901's 6600mAh battery is 1.5 times more capacious than the 900's 4400mAh unit, so all things being equal we'd expect it to last 198 minutes. In fact, the closest clock speed to the 900's 900MHz, the 800MHz the 901 runs at in Power Saving mode, delivered more than twice the runtime.
Even the overclocked Super Performance mode yielded more than 1.7 times the battery life - half an hour more than we'd have got putting the 6600mAh battery in the 900. That's proof that Intel's Atom does deliver a power saving advantage - it's not just the bigger battery
These tests are worst-case: lower the screen brightness and you'll get better results; don't run video continuously and you'll do even better.
Interestingly, you don't get much benefit dropping from Super Performance to High Performance, so we'd ignore the latter setting and flip between Super Performance or Power Saving depending on whether you want speed or battery life.
We look forward to giving the 901 a proper PCMark05 run-down - and a better graphics test - when we get our hands on the Windows XP version shortly.