Asus Eee PC 901 Linux Edition
With Atom, Asus gets it right
The 901 has Bluetooth on board in addition to 802.11n Wi-Fi. Unfortunately, the machine only has one 'wireless active' LED, and it's not immediately clear whether Bluetooth is on or not. We tried to run the Blutooth utility but without success, which indicated the radio was off. The only way to turn it on was to cycle through the 901's wireless modes using the F2 key. After going through all the possible combinations of the two wireless systems being on and off, we finally got round to having them both on, at which point we could launch the config app.
The 901's Bluetooth engine can do file transfers, dial-up networking, and connect to mice and other input devices.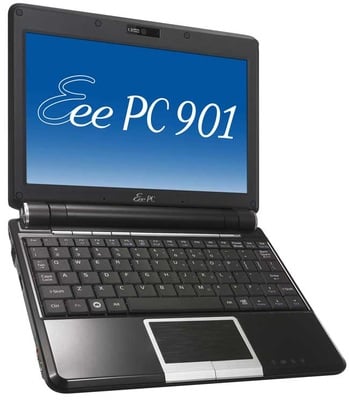 Too close to a full-size machine?
Anyone considering the Eee 901 will almost certainly also be pondering whether to go for the Acer Aspire One or MSI's Wind. The Wind first. It's slightly more expensive than the 901 - £334 - and it's not expected to hit the UK until almost three weeks after the 901. Crucially, the only advantage the Wind offers is storage space: it has an 80GB hard drive. It's memory and processor match those of the 901. It too has Bluetooth but its WLAN is just 802.11g. It comes with a three-cell battery. We haven't yet tested the Wind, but all in all, we think the 901 is the better offering.
The One has a slightly sub-901 spec too: 0.3-megapixel webcam, 802.11g, only 8GB of storage - but it's more stylish, we think, and it's got the same CPU, memory and screen as the 901. And given it's only £199 - £120 less than the 901, we can forgive those differences. It too ships with a three-cell battery as standard, but that £120 difference is more than enough to pick up a six-cell power unit.
Much as we like the 901, if Acer ships the One at the promised price and at a comparable build quality to the 901, Asus is going to find it hard to compete. If we're happy with a 4GB Eee PC 701, we're certainly not going to find the One's 8GB too small.
Verdict
There's no doubt, the Eee PC 901 is the machine the 900 should have been but wasn't. It's got more features, a better processor and graphics, much longer battery life and yet costs less. Even if the 900 was slightly cheaper, we'd still go for the 901. Anyone who decided to ignore the 900 and wait for the 901 instead, will find they did the right thing.

Asus Eee PC 901 Linux Edition
Intel's Atom helps boost the 901's battery life well beyond its pricier predecessor's. But don't expect a big performance gain too.
Price:
£319 / $559 (20GB) RRP