This article is more than 1 year old
Al-Qaeda targets net-connected coffee machine
Aussie issues chilling buffer overflow menace alert
An Aussie risk advisory services manager has issued a chilling security alert concerning the Jura F90 net-connected coffee machine, warning caffeine-heads that the hi-tech brewing device could open their Windows PC to exploitation by internet paedophiles and al-Qaeda*, CNET reports.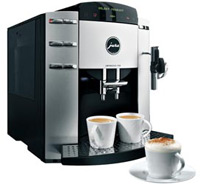 Craig Wright, who works for "professional services" outfit BDO, posted his alert yesterday on the BugTraq security email list, highlighting possible lines of attack, including buffer overflow menaces. The F90 (see pic) is apparently the "world's first household espresso machine with internet capability", which allows users to select "coffee specialities" via their PCs without having to walk the five feet between their desks and the machine.
Mercifully, we don't need to run screaming to our panic rooms just yet, because Wright concluded: "I don't know if many people would target this particular vulnerability because there probably are not a lot of coffee makers at the moment that are internet-connected, and in my case it's behind a firewall." ®
Bootnote
*Oh, alright then - we made that bit up. Let's face it, if net security vulns don't at the very least threaten democracy and Our Way Of Life™, they're not worth writing about.