Supernova Microsoft wants you to know that when its white space prototypes malfunctioned during lab tests at the US Federal Communications Commission, the lab did not burn down.
Last week, the FCC completed tests of devices from several white space-obsessed outfits, and despite the repeated failure of its own engineering prototypes, Microsoft says these tests demonstrated that sending high-speed net traffic over unused TV spectrum is one good idea.
"If you read the press, you would have thought the FCC was in flames and people were running out the door with their skirts over their heads," Microsoft's Ian Ferrell said this morning at Supernova, a San Francisco tech conference.
"But the commission has gotten more than enough valuable and valid data to show that you can use these devices to do spectrum sensing, that you can identify TV channels, and that you can identity them to the level that you're not causing interference."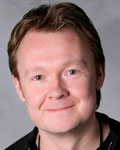 Microsoft's Ian Ferrell
Microsoft is leading a cavalcade of tech outfits who hope to use America's television white spaces for something they often describe as "WiFi on steroids". If the FCC gives its approval, white spaces - portions of the US television band that don't house active channels - will become unlicensed spectrum. Anyone could grab some off-the-shelf hardware and use these airwaves to get online.
'I'm a bad engineer'
Redmond first submitted a white space prototype for FCC testing last summer, but it broke. So the company provided two more devices this spring. And they broke too.
According to Ferrell - who helped design these devices - one prototype had a defective channel scanner, and the other overheated after twelve hours of operation. "I'm a bad engineer," Ferrell said. "But that's a good thing: I'm really a physicist."
This provided more than a little ammunition for the TV and wireless microphone industries, who think white spaces devices will inevitably interfere with their signals. But Ferrell insists FCC tests have shown that interference is not a problem.
The FCC sees things a little differently. Though the commission has completed its labs tests, spokesman Rob Kenny told us, it's planning a second round of testing in the field. This will likely take place over the next few weeks. Microsoft has withdrawn its faulty prototypes, but FCC engineers are still looking at devices from Philips, Motorola, and Adaptrum, a Silicon Valley white space startup.
"This is an ongoing process," Kenny told us. "We will make a decision to move forward [with this white space idea] if there's a possibility of doing this without doing harmful interference to licensed use of the spectrum."
Space...the Final Frontier
Hopefully, that means the FCC will ignore political pressure to shoot down the white space movement. The TV industry wants to keep all that empty spectrum empty, and the big-name telcos want those airwaves licensed.
The telcos say they need the spectrum for backhaul. But you can bet that Verizon and AT&T also see white space devices as a threat to their own wireless internet services.
Offering significantly better propagation properties than WiFi spectrum - Ian Ferrell estimates that signals will travel a good three miles - white spaces could provide net service to roaming portable devices as well as fixed hardware.
Speaking to The Reg, Ferrell says he views white space devices as an "extension of WiFi". He envisions portable hardware that can seamlessly move among white space, WiFi, and cell networks. That's good for you. Not so good for your cellco.
We applaud the white space movement. But maybe Microsoft should let someone else build the hardware. ®