Red Hat chief calls for open source missionary work
Time for customers to swap code
Summit Customers who remain only halfhearted open source converts aren't doing enough for Red Hat CEO Jim Whitehurst.
At his opening keynote at the Red Hat Summit in Boston, Whitehurst said the company needs to start preaching to its customers to share their internally developed code with others.
"The vast majority of software written today is written in enterprise and not for resale," he said. "And the vast majority of that is never actually used. The waste in IT software development is extraordinary."
Whitehurst is calling for Red Hat to become an open source adviser for enterprise coders.
"Ultimately, for open source to provide value to all of our customers worldwide, we need to get our customers not only as users of open source products but truly engaged in open source and taking part in the development community."
But Whitehurst admits Red Hat has some big issues it needs to work out too.
"There's still a lot we need to do around execution. One thing I've heard from many of you over the last couple of months is that we're frankly tough to do business with."
He said the company is working on a number of ways to fix this, such as making customer records more accessible and improving how it supports and communicates with its partners.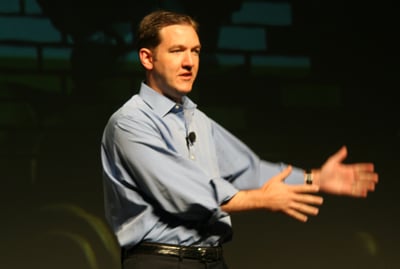 Jim Whitehurst will lay on hands
"One great example is RHX," said Whitehurst. "RHX started off as an exchange for software, and quite frankly, we found out in the first six months that generally our customers don't want to consume software via exchange."
Whitehurst said Red Hat has transformed the program into a "full fledged open source vendor IT program." Although Whitehurst didn't go into specifics, he said they'll be OEMing Jaspersoft for the project. We'll be hearing more news on the change tomorrow. ®