Miscreants have created a point-and-click toolkit designed to make it easier to both create and distribute Trojans.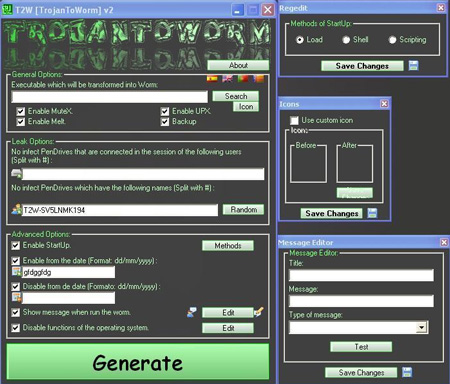 The Trojan2Worm (T2W) toolkit turns any executable file into a worm with auto-spreading capabilities. As such it provides the ability for Trojan infection agents to acquire worm-like spreading abilities.
The tool requires minimal skills to use, net security firm Panda Security reports. Features include the ability to compress infectious files or mutate their contents, tricks designed to make it easier to smuggle malware past anti-virus scanners. It's also possible to program malware so that it disables Task Manager, Windows Registry Editor or even selected browsers.
All this and more is possible at the click of a button. There's even an option to either enable or disable the infection of removable drives. No programming skills are required.
Panda reckons the software was developed in Spain, largely based on its support for the English, Spanish, Portuguese and Catalan languages. ®