AMD has launched its Radeon HD 4800 series, kicking the next-gen GPU line off with the 4850, aka 'RV770'. Expect a second chip, the 4870, next week on Wednesday 25 June, our moles tell us.
Sapphire was one of the first graphics card suppliers out of the door with a 4850-based product, the Sapphire HD 4850, to be precise. Its card contains a 4850 GPU - inside, some 800 unified shader processors - clocked at 625MHz.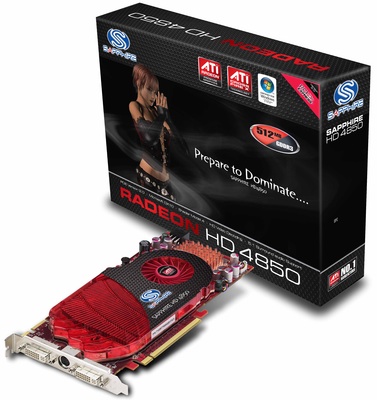 Sapphire's HD 4850: contains, unsurprisingly, a Radeon HD 4850
The single-slot board is also home to 512MB of GDDR 3 clocked to 993MHz. It connects to the host PC over a PCI Express 2.0 bus, where it can sit alongside up to three more 4850s all linked up in CrossFire X configuration.
The Sapphire board sports the usual dual-link DVI port pair and a TV-out connector. There's an HDMI adaptor in the box.
AMD's launch was not unexpected - particularly since it launched the part earlier this week in the guise of the FireStream 9250 workstation-oriented graphics chip-and-card combo.
In any case, arch-rival Nvidia also launched its own next-gen line, the GeForce GTX 200 series, this week.