This article is more than 1 year old
eBayer slaps $714 price tag on $630 in cash
Will Microsoft pay the difference?
In an attempt to game Microsoft's new Live Search Cashback program, an eBayer has put a $714 price tag on $630 in cash.
Here's the listing in all its glory: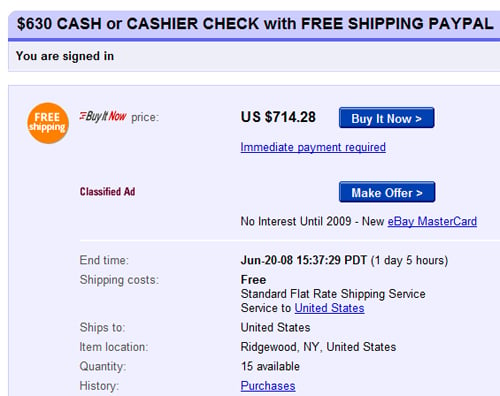 Pay cash for cash
That's right, $630 in cash can be yours for $714. But if you access the page through a Live Search ad link that returns 35 per cent of the purchase price, you can make up the difference. And then some. So you make a profit, and so does the seller. At the expense of Microsoft and eBay.
That's the theory, anyway. It's unclear whether this actually works, and neither Microsoft nor eBay has responded to requests for comment.
Last month, in a desperate effort to shrink the Google gap, Microsoft began bribing people to use its third rate search engine. If you use Live Search ads to find and purchase certain items, Microsoft will return a portion of the purchase price. In some cases, this amounts to a 35 per cent savings.
The payments come straight from Microsoft's product-selling advertisers. So, if a partner like eBay posts an advertisement, the ad fee provides that cash back refund.
Well, in recent days, message board mavens at FatWallet.com have noticed a potential loophole in this setup. If an eBay listing offers cash, they say, both the seller and the buyer can make some extra dough. But it must be a "Buy Now" purchase - and payment must be made through PayPal.
At the very least, there's a cap on that extra dough. Microsoft limits cash back rewards to $250. That's why our swashbuckling eBay choose $714 as a purchase price. But some posters are claiming a 35 per cent return is no longer available on eBay listings. The norm now seems to be 10 per cent on eBay buys.
If this does work - the eBayer hasn't responded to us either - we're sure it won't work for long. The bigger question is how long Ballmer can afford cash back refunds on all those other sales. ®
Bootnote
A tip of the hat to Joe Lazarus and Techdirt.