At Hulu - the ad-driven streaming video site cooked up by media giants NBC and News Corp. - you can watch mainstream feature films and big-name TV shows without paying a penny. But you aren't welcome if you've installed an ad blocker.
Roughly a month ago, Hulu began serving this message to any user who dares equip their Firefox browser with an Adblock Plus plug-in: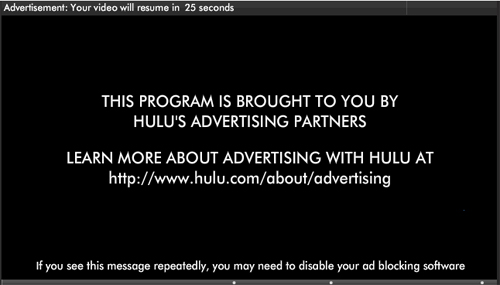 A hint from Hulu
And this missive may be triggered by other ad blockers as well. "Our detection method is 'ad blocking software' agnostic and should present the user with this message regardless of browser or software," a company spokesman told us. "While ad blocking software updates never end, we will continue to invest in methods to protect our Content, Distribution and Advertising Partners so we can continue to offer our users premium content with a solid experience."
Hulu insists it isn't actually preventing these users from viewing video. So the bit that says "if you see this message repeatedly, you may need to disable your software" is just FUD.
But we wouldn't be surprised if the company puts the block on ad blockers in the not-too-distant future. "Hulu is a legal service brought to users completely for free through the support of our advertising partners," that spokesman continued. "Our intention is to build a successful long-term business model in order to provide users with compelling premium online video."
The question is, How many other sites will join Hulu in its ad block crackdown? As more and more advertising moves to the web, more and more people are installing ad blockers. According to the latest numbers from Mozilla, makers of the Firefox browser, Adblock Plus has been downloaded by nearly 20 million people, and nearly four million are active daily users.
The other question is, How will the ad block crowd respond to such a crackdown? They may tell Hulu to shove it. But what happens when YouTube fires up a Hulu-like missive? Do those users uninstall their ad blockers - or do they leave? And if they leave, what happens over at Mozilla?
Remember, YouTube is owned by Google. And Google is Mozilla's sugardaddy. ®
Bootnote
A tip of the hat to Silicon Alley Insider.