Nokia N78
Nokia's newest N-series quad-band candybar
Review Nokia's latest N-series "multmedia computer" bundles a 3.2-megapixel camera, music player, satnav and maps into a sleek go-anywhere, do-it-all device.
The N78 is certainly a classy looking handset, and the smart touch goes much deeper than its looks. Its sleek, gloss-black front may at first glance resemble the touch-sensitive minimalism of LG's oft-copied Chocolate series, but in use, all is not as it seems.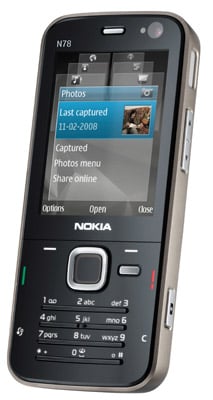 Nokia's N78: packs in feature after feature
To press the illuminated buttons you actually press the plastic casing inwards. The cover bends to accommodate your thumb rather than reacting purely to your touch. It might seem like a low-tech alternative, but in practice it seemed more reliable than the touch-sensitive option, which in our experience can be a bit temperamental.
Nokia's solution is a good combination of style and practicality. The numeric keypad is actually four raised plastic strips, with the numbers backlit just above them. It looks lovely, but takes a bit of getting used to, and it has to be said that this keypad is far from the best for rapid or prolonged texting.
The face of the phone oozes minimalist class, but strangely, the back feels like its made from low-grade material and creaks in your hand, which detracts from the cool image. There's another surprise hidden in the square navpad. Rubbing your thumb around the edge activates what Nokia calls the "navi-wheel", which moves the cursor around the screen without the need to press the pad.