Navi-wheel is a small innovation perhaps, but it's one that makes the navpad very intuitive to use and you end up using it without realising what a good job it's doing. You can access the menus via the usual Symbian menu button or a dedicated Applications button which stands out asymmetrically next to the navpad. This calls up an iPod Touch-style interface that allows you to flick through your applications the way the Touch lets you flick through your album covers. Nice. A long press on the side-mounted shutter button gets you into camera mode.
The 3.2-megapixel camera features a lens with the Carl Zeiss name that Nokia is always so fond of dropping. Whatever. Whether it's the lens or something else, the pictures are clear and generally sharp, with rich colours and a good sense of scale. It has a proper LED flash too, rather than a photo light, though you'll still need to be fairly close to your subject for it to be effective.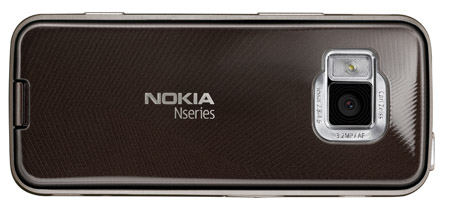 The 3.2 megapixel camera is complemented by an LED flash
The usual editing options we've come to expect from the N-series are all there, allowing you to add effects, text, crop and rotate your pics as well as reduce red-eye – a neat little on-board editing suite in other words. There are also options for shutter timer, burst mode, brightness settings and an on-screen grid that helps you centre your composition when you're lining up your snaps.
All it needs is the multi-shot BestPic facility from Sony Ericsson's Cyber-shot range and you've got pretty much everything you'd expect from a modern cameraphone - bar a couple more million pixels maybe.
And this being a 3G phone, there's also a secondary camera at the front for video calling.
The N78's Assisted GPS (A-GPS) system not only tells you where you are, but can also automatically add location data to any pictures you take – handy for uploading to sites like Flickr or Nokia's own Share On Ovi online piccy service. The Nokia Maps feature is well integrated with the satnav, and the bundled 2GB Micro SD card comes with an impressive library of world maps.