Tap in an address and the N78 will show it on a clearly laid-out, simplified map that's ideal for navigating. It can also plot routes between addresses and landmarks, and turn-by-turn voice guidance is available for a fee, although Nokia offers an initial three-month usage period for free.
The music player is equally impressive. It displays cover art if available, and you can search by artist, track, album, playlist or genre, though there's also a slightly pretentious 'composers' search option and a dedicated space for downloaded podcasts.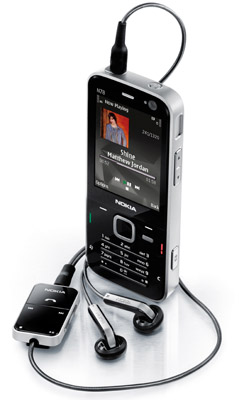 At last, a phone with a standard 3.5mm headphone jack
The supplied headphones are better than many bundled sets, but there's also a 3.5mm socket so you can add your own 'phones if you feel the need. There are two speakers - one on the front, the other on the back - but unusually they're placed at opposite ends of the handset. It might seem a bit odd, but spreading the speakers as far apart as possible goes some way to enhancing the stereo image when you're playing music. It does work, sort of, though it's a bit disconcerting that you can never have both speakers facing you at any time.
The sound is fairly clear and not too tinny, though you don't get much bass, of course. There's a basic graphic equaliser with five pre-sets for bass booster, classical, jazz, pop and rock. As usual with these things, there's little logic to the naming convention – why should 'Jazz' mean removing the bass and boosting the high end, for example?
There's 70MB of memory on board, as well as the option to add more with the Micro SD card slot. Nokia's rather excellent FM radio is present and correct, but you can also access Nokia's internet radio service, which gives a taste of the wealth of internet radio stations from around the world. If money's no object that is – live streaming can soon run up your data bills, unless you connect by Wi-Fi.