You can also do the iTrip thing with the built-in FM transmitter and beam your music to your car radio. Incidentally, the Navi-wheel really comes into its own as you scroll through your music playlists, behaving like a tiny version of Apple's scroll wheel. Hmmm, are we sensing a pattern here?
Of the few problems we encountered with this phone, there were the usual Symbian issues of running slowly when you've got several applications open at once, but it was nippy enough when we stuck to doing one or two things at a time and it was easy to switch off background applications using the aforementioned Applications button.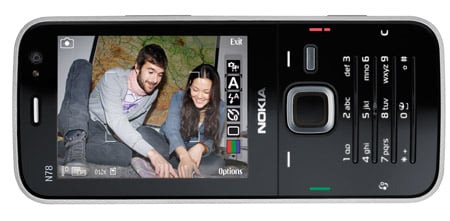 70MB of memory on board - plus a Micro SD slot for more
If the 3.6Mb/s HSDPA connection isn't fast enough, you can also connect over Wi-Fi. The usual N-series web browser is here in full effect, with options for viewing in landscape or portrait mode, plus zoom and the ability to flick through previously viewed pages. There's also a PDF viewer and QuickOffice for viewing Microsoft Office documents, though if you want to create them you'll have to pay for the full Office suite.
And as a Symbian phone there are of course plenty more third-party apps available.
Battery life was pretty good, and we got a good three days of moderate use out of it, though heavy browsing will of course reduce this quite dramatically.
Verdict
From its sleek, minimalist good looks to its raft of impressively well-integrated features, the N78 is a gorgeous little number. The 3.2-megapixel camera, feature-packed music player, A-GPS and maps, quality web browser plus documents readers and email make it an ideal travelling companion for business or pleasure.

Nokia N78
This 3G, GPS-equipped candybar cameraphone really wants to be your best-ever travel buddy.
Price:
Contract: from free. Handset only: £310 / $600 RRP
Similar topics