A.M.P - the ultimate musical robot?
"I am a freak-a-zoid, come on and wind me up"
If you can't convince your partner to go to salsa lessons with you, why not trade them in for a robot? Or, to be more specific, an Automated Music Personality (AMP) that knows all the moves.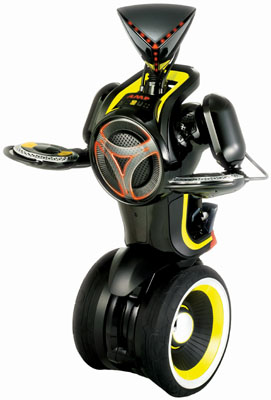 AMP: plays music, dances and follows you around
AMP is the result of a joint initiative between Tiger Electronics and Sega Toys to create the…er… "future of music mobility". The 29in-high machine connects to any MP3 player, thanks to a docking station in its back, and will quite happily pump out music doing dancing for you - without complaining that its feet hurt.
It has five basic moves: dance, track, drive, park and follow - although we're not sure what move AMP would pull off if you asked it to do The Robot. Movement is based around Segway-style wheels that rely on a piezoelectric gyroscope.
AMP's not just a one-trick pony though, because it also boasts over 62 different sound effects, knowledge of numerous "electrifying dance moves" and 49 expressive LED light animations.
Users control the musical robot through a remote control and several sets of speakers are built into the AMP's body, including a 5in mid-range speaker and two tweeters.
Despite looking like handy pizza holders, AMP's two circular 'hands' are actually touch pads for layering different sound effects and scratches over your music.
The Automated Music Personality robot will be available in October for $500 (£250/€300).