Shopper connects to Jesus via Denon link cable
Constructs shrine to $500 miracle
There's plenty of merriment on offer down at Amazon this week, where net wags have been having a bit of a field day with the Denon AKDL1 Dedicated Link Cable - modestly priced at $499.99: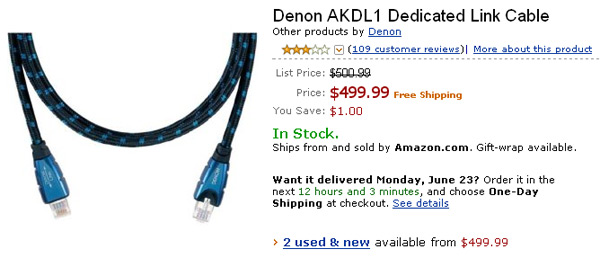 In case you're wondering why on God's Green Earth you'd want to pay 500 bucks for a cable, here's why:
If I could use a rusty boxcutter to carve a new orifice in my body that's compatible with this link cable, I would already be doing it. I can just imagine the pure musical goodness that would flow through this cable into the wound and fill me completely -- like white, holy light. Holding this cable in my hands actually makes me feel that much closer to the Lord Jesus Christ. I only make $6.25/hr at Jack In The Box, but I saved up for three months so I could have this cable. It sits in a shrine I constructed next to my futon in Mother's basement.

I only gave it four stars in my review because I can't find music that is worthy enough to flow through this utterly perfect interconnect.
You get the idea. Here's another review:
My best friend and I hooked up this Denon cable to my hi-fi system. Unfortunately my little sister, just before being grounded, turned on the CD player before me and my bud were ready. We tried to make it to the couch but the wave of incredible audio clarity enveloped us like an exploding nebula, I've never heard a Genesis CD sound so beautiful and yet be so terrified at the same time. My best friend sacrificed himself going behind the stereo system to reroute power to the out of phase amplifier. I buried my friend in a coffin the shape of a Star Trek branded MP3 player.

To boldly go where no audio has gone before..
Alternatively, try "This quantum tunneling ethernet cable is incredible!"...
The Denon AKDL1 cables increase polarized hyperbaric ethernet throughput to over 70 petabytes/second. This cable is the first in a series of nano-molecular para-polarized transparent aluminum cabling, soon to be standard in all Denon audiophile equipment.

Since carefully installing the Denon cables using the provided surgical gloves, my system has stablized in Hilbert space. Apparently the Denon AKDL1 performs polarized nanoscale quantum tunneling by using a custom transparent aluminum cable matrix to push parameterized vorgon particles through a dark fibre phase variant Heisenberg compensator. How they accomplish this for only $500, I don't know.
And finally:
I had my doubts when I decided to lay out the big bucks for a "cable." Little did I know, or frankly truly appreciate, the goodness that it would bring to not only my entertainment mecca, but my life in general. Ever since I brought this "little bit o' cable sunshine" into my house, my life has just taken off. Everything sounds and just feels better because of what I'm referring to as the "cable goodness spillover" effect. You name it, it sounds better. Garage door opener, dishwasher, washing machine. It doesn't matter. I've also noticed that women are really looking at me a lot. I mean a lot. You can just see the lust in their eyes!! It makes me feel so good, yet so dirty. Thank you Denon for changing my life for the better. Anxiously awaiting the arrival of the $1000 and higher cables to get to the next level of existence.
Good show. Aficionados of such gushing endorsements will, of course, be reminded of Peter Andre and Jordan's sensational album, the famous Oxo Tower and Playmobil's Security Check Point. ®