Yes! It's the RC beer delivery system!
Beer, direct to your seat
Fridges are a great invention, but the major drawback is that you've got to get out of the armchair and walk all the way across to them for an ice-cold beer. Well, not any more, because an remote-control booze cooler's rolled onto the scene.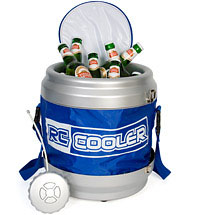 Beer comes to you, within 30ft
The R/C Drinks Cooler looks no different from standard ice buckets and can hold up to 12 bottles or tens tinnies at a time. However, it's got four wheels on the underside that allows you to control the mobile drinks unit from up to 30 feet away.
Although there's quite a bit of battery expense required, because the cooler requires six C-type batteries and the controller needs a 9V battery, the benefit of not having to move from your spot to grab a drink is bound to outweigh any possible negatives.
Hopefully, the second-generation model will also be able to order and collect the pizza for you. But for now, the R/C Drinks Cooler is available online from Firebox for £40 (€50/$80).