MSI Wind Windows XP Edition sub-notebook
Size, it seems, is everything
In addition to the the air vent on the left side of the chassis, the remaining space is dedicated to two USB ports, a jack for the power adaptor and a hole for connecting a Kensington lock. The back of the MSI is featureless, with space being occupied by the three-cell battery.

A fine selection of ports
The front of the MSI is completely devoid of ports or features. On the right side, you'll find one USB port, 3.5mm microphone and headphone sockets, VGA and a LAN connection. There's also a media card reader, capable of accepting four types of media card.

The Wind has some serious air vents - but it's no hair-dryer
Frustratingly, our review unit failed to accept SDHC cards – although with an 80GB hard drive on board, it's much less of a problem here than it would be in an Eee.
MSI's Wind is the second laptop we've reviewed that features Intel's much-touted Atom processor, an Atom N270 running at 1.6GHz. Those expecting a performance boost over the Celeron-based Eee PC 701 and 900 will be disappointed, but that's not the point of this processor.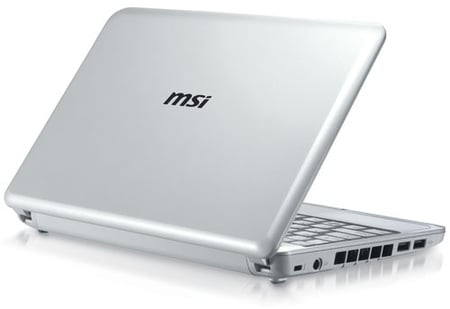 Performance to match the Eee PC 901
Instead, you'll find the Atom is far less power-hungry, with a TDP of just 2.5W, which is partly why the Wind stays so cool during use. It also offers a much needed boost in terms of battery life.