MSI Wind Windows XP Edition sub-notebook
Size, it seems, is everything
Our review unit came with an optional six-cell battery, which results in a slightly thicker machine. However, it's a neatly integrated package, and it looks like much less of an afterthought than the bulky battery offered for HP's MiniNote.
Battery Life Results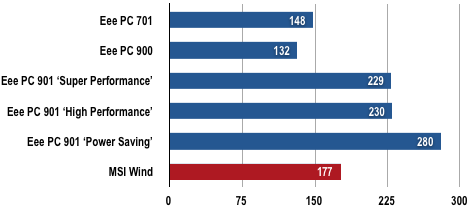 Battery life in minutes
Longer bars are better
With the screen dimmed to around 60 per cent brightness levels – which on this machine wasn't too far off the Eee PC on its brightest settings – we managed to get a useful six hours and 23 minutes of light use away from a power source. That was with Wi-Fi and Bluetooth turned off, but it's ideal for standard word processing tasks.
This dropped to around three hours when running a looped video, with the brightness turned up to full and with Wi-Fi activated. It's not quite a match for the Eee for overall battery life, then, and how much extra the six-cell battery costs remains to be seen.
The 1GB of DDR 2 memory copes fine with Windows XP, the OS booting in a reasonable amount of time. A second memory slot is allocated for a further 1GB. Unfortunately, we weren't able to put the Wind through its paces for benchmark results – firstly, because we had a pre-production sample, and also because the Wind's 1024 x 600 pixel resolution is below that of the minimum 1280 x 800 we use during PCMark and 3DMark tests.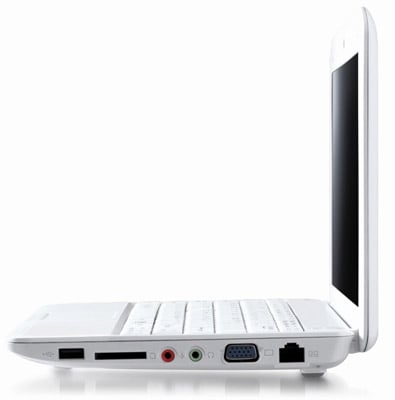 Curves courtesy of the MacBook Air?
The MSI offers 80GB of storage space as standard, verses a maximum of 20GB in the Asus 901, helping to level the cost difference if you do opt for the six-cell battery. In this case, it's a regular 80GB hard drive, rather than Flash, although a speed of 5400rpm is in-keeping with the average laptop.