MSI Wind Windows XP Edition sub-notebook
Size, it seems, is everything
An integrated Intel GMA 950 GPU deals with graphics, resulting in predictably limited 3D performance. You won't be able to play serious games - well, not natively, but there are other options - or carry out heavy video editing work then, but nor will you on any of the Wind's rivals. We had no trouble performing everyday tasks – from running an office suite to playing DivX video files, everything ran smoothly.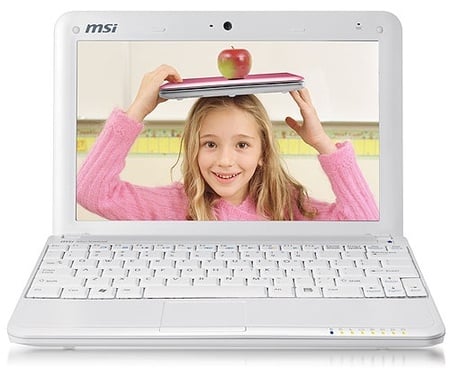 Kids get Wind, teachers get Apples
The 10in screen is more than capable when it comes to web browsing, with the need for horizontal scrolling now a thing of the past. The Wind even copes reasonably well with simple photo editing, although more intensive tasks resulted in a lag where you could literally wander off and make a sandwich.
Verdict
With the competition largely failing to deliver, the Wind's main rival remains the Asus Eee PC 901. As we mentioned in our review of the 901, the specifications and performance are very similar, and both machines have key advantages. If battery life tops your needs, the 901's standard six-cell unit is likely to swing things in its favour.
If outright battery life isn't a factor, however, or you don't mind shelling out for an optional six-cell battery, then the MSI is actually the better laptop. The keyboard is a lot more comfortable, with bigger keys and a more responsive action.
It's close then, but with quality, usability and one of the best screens also in its favour, we believe the MSI Wind is arguably the most complete sub-notebook currently available.

MSI Wind Windows XP Edition sub-notebook
MSI's Eee PC-beater delivers less battery life than its rival, but has a bigger screen, making it the best package overall.