UK petrol prices are now so high that even if you could afford a supercar, just running it would be cost a fortune. So why not buy a different type of Lamborghini to impress the chicks with and opt for Asus' Lamborghini ZX1 mobile phone.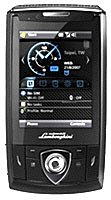 Get in the talking seat, with Asus' Lamborghini ZX1
The phone first appeared at CeBIT back in March, but the manufacturer has now lifted the lid on what features hotrod handset fans can expect.
The real car may be super-fast and Asus' mobile version will be too, because it's capable of 3.6Mb/s HSDPA 3G connections and provides quad-band GSM/GPRS/Edge network support. The phone doesn't run on petrol though, thankfully, because Asus has opted for the slightly cheaper-per-litre Windows Mobile 6.1 instead.
You'll be able to surf the web over 802.11 b/g Wi-Fi and Bluetooth 2.0+EDR is on board for short-range data transfers. You shouldn't get lost driving walking around the backstreets with the ZX1 though, because it provides GPS support.
The 2.8in LCD display should happily show off pictures snapped on the integrated three-megapixel camera. Although you won't be able to drive past chicks with the roof down and music blaring, the MP3 and WMA support means you'll be able to walk past with your headphones blasting. Asus' ZX1 also supports JPEG and PNG still image formats and MPEG 4 video.
The talker's nine-way navigational key can even be customised so that shifting up a gear takes to directly into, say your message folder, and shifting down parks you in neutral puts you back on the home screen.
Asus hasn't said when the ZX1 will be available yet, or how much it'll cost.