It's time again for Cisco's annual customer conference, Cisco Live! in Orlando. Better dust off that old Sadville avatar, networking fans, these things curiously get beamed in at Linden Lab's infamous soul dump Second Life.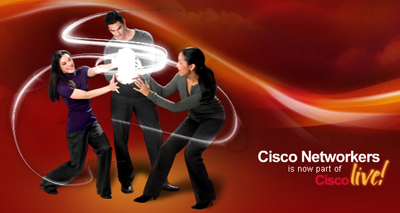 Cisco networkers master the Rasengan!
This year's conference certainly doesn't have the same new product razzmatazz as 2007. That's when Cisco readied its vision of making the network ground zero for data center collaboration with the massive new Nexus switch. Today is more about assuring customers Cisco's "Data Center 3.0" plans are going well — although there's some fresh kit mixed into things.
Cisco is today announcing software upgrades to its Wide Area Application Services (WAAS) and Application Control Engine (ACE) devices, along with a VFrame update too. Let's take a look before that creepy John Chambers Second Life Avatar comes in and gives us horrible nightma...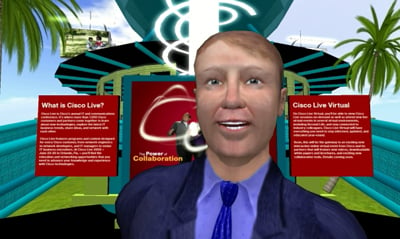 Oh no! It's too late!
WAN acceleration, expanded
For a while now, Cisco has been rumbling about doing what most of the smaller WAN acceleration houses have already accomplished.
The vendors are expanding the role of their appliances beyond pure network acceleration to something with a little more legs. For instance, F5 is supposedly fixing to combine de-duplication and acceleration. More typically, vendors such as Blue Coat are focusing on video distribution and optimizing boxes for specific applications.
The version 4.1 update of Cisco's Wide Area Application Services (WAAS) software now supports network-embedded virtualization with an upgraded software license. That option lets customers locally host services (limited to Windows Server 2008 right now) on the box.
Cisco's veep of appliances George Kurian said the fresh code provides for the best mix of distributed and centralized services for branch and remote offices. Running Server 2008 locally at a branch office on the WAAS appliance reduces server hardware requirements, and makes for more flexible branch service delivery.
Cisco announced its collaboration with Microsoft for Windows Server integration in the appliance back in February. Lo and behold. The update is scheduled to be available for download in August, 2008.
It's also upgrading the software for faster real-time applications such as IP telephony, video and multimedia beamed from the data center to a branch office.
Application-specific acceleration has been updated for Microsoft Exchange (MAPI), web applications (HTTP), live and on-demand video (RTSP), centralized printing (Windows Print), and Unix/Linux file sharing (NFS).
The virtualization and live video streaming options are available as separate licenses starting at $2,500 per device.
ACE improved
ACE software release 3.1 just about doubles the virtualized performance of the Cisco ACE 4710 application switch. It now delivers up to 4 Gb/s of juice with up to 2Gb/s of compression capability.
That's software license-based scalability — so the switch can move from 1Gb/s to the new limit of 4Gb/s, depending on how much you're willing to pay. According to Kurian, the new throughput improvement means a potential reduction in the number of servers you have to deploy for pumping high definition videos over a network.
Cisco has also improved the 4710 appliance and module to use virtualized load balancing and security services with an increased ability to use Session Initiation Protocol (SIP) and Real-Time Streaming Protocol (RTSP).
The software release should be available in July. The throughput license upgrade is priced at $15,000.
VFrame re-framed
Lastly, Cisco is releasing an upgrade to the VFrame provisioning appliance.
VFrame version 1.2 now integrates with ACE for L3-7 service provisioning and tracking and policy-based provisioning of VMWare ESX environments. According to Cisco, VFrame 1.2 can now virtualize servers to ACE virtual devices, select a server out of a utility pool, and configure it end-to-end with ESX.
Version 1.2 is scheduled to be released in July on primary and secondary appliances starting at $59,995. That's a spicy meatball.
Whew, just saved you a trip to Orlando. Oh sure, you could always wander into the Second Life showing — but let us leave you with a preview of the horrors that await you.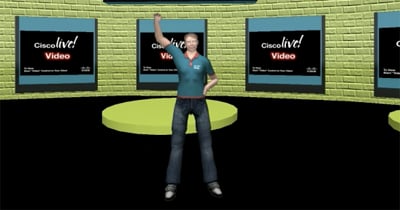 Oh John Chambers, what strong, deformed arms you have! ®