Bus-spotting paedo terror bust: Shock CCTV image
Rights? You don't have any rights
---
Our recent piece on the terrorist paedophile bus-spotter driven off the UK's streets by public and police hostility prompted a certain amount of speculation as to what exactly are your rights when you whip off the lens cap.
The answer? You don't have any rights, as this shock CCTV image proves: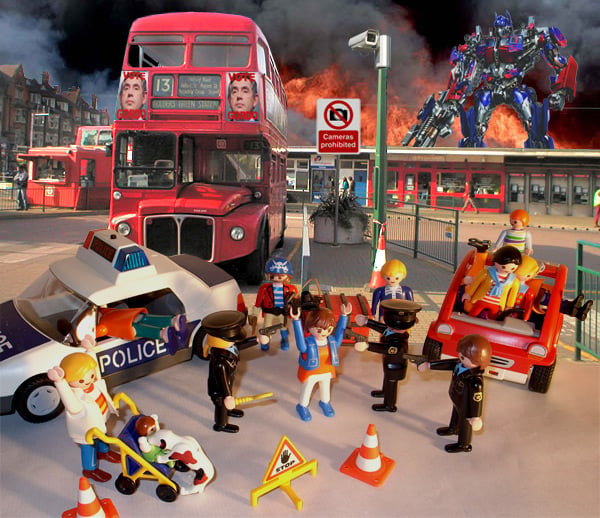 Yup, this particular omniboligist made the mistake of taking too close an interest in a "sensitive" vintage Routemaster and in his enthusiasm to get the money shot strayed within 20 yards of a defenceless kiddie while wielding a highly suspect telephoto lens.
Mercifully, the Met has moved with lightning speed to supress the threat to national security, with armed officers offering the perp the choice of deleting the images from his SD card, or facing arrest, detention and eventual half-hearted apology under the Prevention of Terrorism Act.
However, while fully occupied with defending the realm, the Met's finest have failed to notice that a Staffordshire bull terrier is "sharing" cheese and onion crisps with the aforementioned nipper while the devil dog's owner - down from Leeds for the day to attend the "ASBO of the Year" awards - is using the opportunity to steal the cops' car radio in the belief that it contains a magic chip offering free Sky TV.
Officers are also completely oblivious to the presence of Boris Johnson, seen here with an official from Tory Party Central Office bearing a chest of gold acquired from the smouldering rubble of Tariq Aziz's Baghdad residence in "morally ambiguous" circumstances.
The female firearms operative on the right, meanwhile, is about to enjoy a ride in an ambulance after being hit by a Volvo S70 packed to the gunwales with a record-breaking 12 passengers.
And finally, the whole scene is played out to a backdrop of Optimus Prime - fresh from his destruction of Croydon - who's been chasing the Volvo for 20 miles in the hope there might be room for one more in the back and the driver can drop him off at his Tottenham bedsit. ®