This article is more than 1 year old
Tennis sites hit by drive-by download attacks
You cannot be serious
Two high-profile tennis websites are among scores of victims of a new wave of SQL injection attacks. The website of game regulators ITF and ATP, the professional players tour, were hit by automated attacks in the run-up to this week's Wimbledon championship.
The ITF (International Tennis Foundation) website has since been cleaned up but the ATP website remains dirty, according to Fraser Howard, a security researcher at Sophos who's tracking the attacks. Howard explained that hackers used search engines and automated tools to hunt for vulnerable sites. The timing of the infection of the tennis websites is therefore just a coincidence.
SQL injection attacks are commonly used by hackers to booby-trap legitimate websites with exploits designed to load malware onto the PCs of vulnerable machines. This type of attack, called a drive-by download, is becoming increasingly common.
Both admins and surfers need to keep systems fully patched in order to minimise the chances of attack, Howard advised. He warned sysadmins who simply remove malicious scripts without dealing with the underlying security problems are likely to get hit again. Sophos has posted a blog entry on SQL injection attacks and how to combat them here.
Website vulnerabilities have also been used to plant malicious scripts on the website of the Competition Appeal Tribunal and a number of NHS sites, Sophos reports. The government agency disputes this.
The Tribunal is a UK government site that hosts information about competition appeals. As such it hosts information on cases where mobile phone operators fight over roaming charges and termination fee disputes, for example.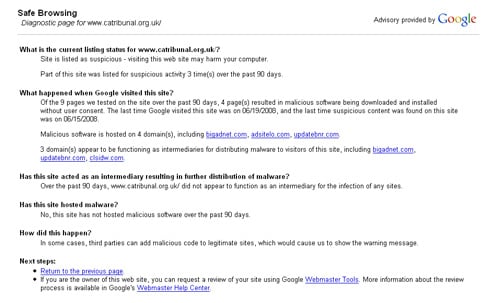 Google takes exception with the CA Tribunal website
Apparent infections on the CA Tribunal website led to a warning from Google's malicious software detection tool last week. The site was taken offline at about the same time and remains unavailable at the time of writing on Wednesday. A representative of the Tribunal said the site was taken online for technical reasons. She denied suggestions the site was infected with malware and said it was in dialogue with Google over the search engine's "false classification".
CA Tribunal expects its site to be back up and running by the end of the week. ®
Additional reporting by Bill Ray.