Nvidia releases PhysX code for latest GeForce GPUs
Physics for GTX
Nvidia has posted a version of its PhysX software that enables the physics-on-GPU technology on its GeForce GTX 200-series and 9800 GTX graphics chips.
The new release, version 8.06.12, was posted last night, builds on software Nvidia acquired when it bought physics chip specialist Ageia in February this year. Like past versions of the PhysX code, the new version also runs on Ageia PhysX chips.
But the crucial change is support for Nvidia GPUs for which the latest version of the company's Forceware drivers are required: 177.39, an advance on the version currently available from Nvidia's Forceware download page, which is 177.35, released a couple of weeks ago.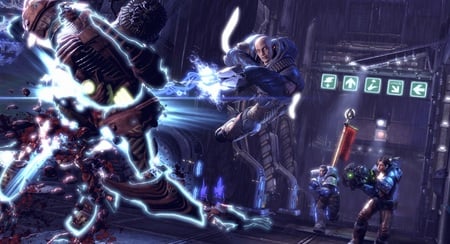 Unreal Tournament 3: zapped, physically
The new drivers run on Windows XP and both the 32- and 64-bit incarnations of Vista.
Of course, you also need an app that can take advantage of the GPU and the physics code, and for that Nvidia offers a link to the Unreal Tournament 3 PhysX Mod Pack, which incorporates a couple of new arenas to show of the game's "maximum impact" physics effects, which include damage to the world in which the games is set, a whirlwind hazards that sweeps around the battlefield, and weapons that can pull debris towards the player.
The PhysX code is available from Nvidia's website here, while the Unreal Tournament add-on can be downloaded here.