Sony Ericsson Cyber-shot C902 cameraphone
Happy snapping
Review It's clear that the design of Sony Ericsson's C902 is far more conventional than the likes of the K810 or K850. Gone is the 'small key' design, the keypad now being a sort of cross between that of a W960 and a K800.
The new look works without any major drama, but hardly pushes back the boundary of design and we certainly prefer the 850/810 keyboard style for texting. Still, it's a smart looking lump, measuring 108 x 49 x 10.5mm and weighing in at 118g. It's a little lighter and substantially thinner than the either the K850 or the K810.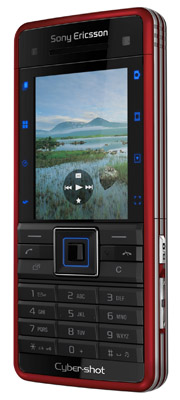 Sony Ericsson's Cyber-shot C902: smart looking
Did we say 108mm tall? Well, sometimes. To activate the camera on the C902 you need to take a firm hold on the top and pull open the 8mm slot that covers the lens. Luckily, the slider feels well engineered and likely to hold up to repeated use without starting to slide shut under its own weight or wobble as time and repeated use takes its toll on the mounting.
Technically, the C902 is very close to the K850i. What you get for your money is – deep breath – 160MB of on-board memory and a Memory Stick Micro expansion slot; quad-band GSM/GPRS/Edge and 3.6Mb/s HSDPA; a 2in, 240 x 320 screen with ; an accelerometer-driven auto-rotate system; an FM radio with RDS; TrackID song recognition; Bluetooth with A2DP wireless stereo; a five-megapixel autofocus camera with 30f/s QVGA video recording; the Video, Photo and MusicDJ applications that are now common on most mid-range and above Sony Ericsson handsets; an RSS hub; voice recorder; picture blogging application; three games and support for MP3, AAC and MPEG 4 media. You also get Google Maps pre-loaded and the PlayNow music ringtone purchase web application.
One glaring difference between the C902 and the K850 is the removal of support for Micro SDHC cards. At a recent Sony Ericsson press event, we tried to get to the reasoning behind this, especially as it looks as though the new Cyber-shot C905 handset will also only come with M2 expansion. The best answer we got was that at the the time of the K850i's release, M2 cards only went up to 4GB, so building in support for 8GB Micro SDHC was the obvious move.