This article is more than 1 year old
HD TV in the UK
Time to buy a 1080p telly at last?
Feature After a somewhat sluggish start, HD TV services are finally starting to take off here in the UK. It's about time too, as there are almost 10m HD TV sets currently in use here in the UK, yet Sky — the main provider of HD broadcasts in the UK — has barely half a million subscribers signed up to its Sky HD service.
However, the recent launch of Freesat — a joint venture between the BBC and ITV — is finally starting to stir things up a bit. Admittedly, Freesat's arrival was pretty low-key, but this new service has the potential to give millions of UK viewers access to free HD programmes for the first time. It's already prompted Sky to cut the price of its Sky+ HD set-top box by 50 per cent.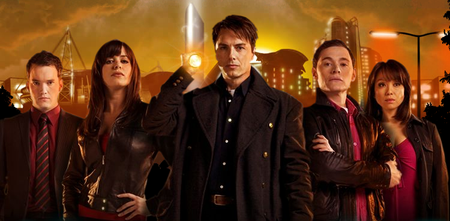 Torchwood on BBC HD: but no Doctor Who…
Virgin's getting in on the act too — as is Apple, which has finally got around to making a (somewhat limited) selection of HD films available for rent through its AppleTV set-top box. All this means that UK viewers now have a number of options for watching films, sport and other programmes that will really show off their expensive flat-panel TV sets in all their high-def glory.
Free For All
Freesat is similar to the popular Freeview service, which is now being used by half the homes in the UK. It offers around 80 TV channels and radio stations, including two HD channels — BBC HD and ITV HD. Its channels are broadcast via satellite rather than the terrestrial transmitters used by Freeview, which means that you'll need a satellite dish to receive the signals, and a new digital set-top box to link the satellite dish to your TV.