This article is more than 1 year old
HD TV in the UK
Time to buy a 1080p telly at last?
And it may well be worth waiting until they do. BBC HD is only on for four hours a day, and the range of programmes available on BBC HD and ITV HD isn't that great as yet. There are a few popular programs that get repeated ad nauseam, such as Gavin and Stacey, and documentaries such as Planet Earth that really benefit from the HD treatment. However, the main emphasis right now is on sport.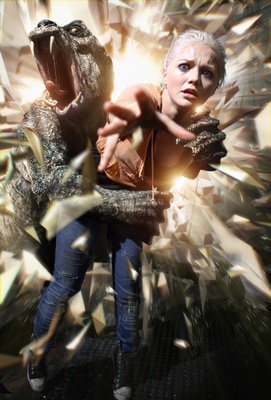 ITV HD: dinosaurs and sport
The BBC HD channel is showing Wimbledon at the moment, while ITV HD has Euro 2008, so Freesat is certainly worth considering if you want to see every blade of grass on the tennis courts and football pitches this summer. Interestingly, ITV HD is currently exclusive to Freesat, so that might well have swing a few sales as Euro 2008 progresses to its conclusion.
Full HD channel listings are available from the BBC's HD site and from ITV's own site too.
Sky High
In contrast, Sky's HD subscription service boasts more than a dozen different channels' worth of HD programming. Again, much of it is sport, but there are also a number of movie channels, as well as Sky One HD, which broadcasts HD versions of most — but not all — of the programmes that are available on the standard Sky One channel. You can also get BBC HD as part of your Sky HD service, along with Channel 4 HD — which is exclusive to Sky HD at the moment — and a number of documentary channels such as Discovery HD and National Geographic HD.
There's a full channel listing on Sky's web site.